Buck Rogers in the 25th Century: The Complete Series blasts off in HD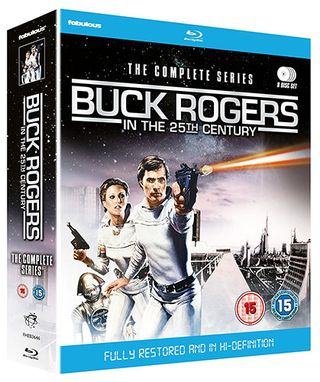 Relive all 33 episodes of the colourful 1980s sci-fi adventure series, Buck Rogers in the 25th Century, now fully restored in HD
In 1987, NASA launches the last of America's deep space probes piloted by Captain William Buck Rogers (Gil Gerard). In a freak mishap, Buck is blown out of his trajectory into an orbit which freezes his life support system. Reawakened 500 years later, Buck finds himself accused of being in league with a band of space pirates.
But after single-handedly foiling an invasion attempt by Princess Ardala (Pamela Hensley), he soon begins a new life assisting Earth's Defence Directorate with all manner of threats, as well as seeking out the lost 'tribes' of humanity from Earth's 20th-century nuclear war.
Assisting Buck in his weekly adventures are Colonel Wilma Deering (Erin Gary), Dr Elias Huer (Tim O'Connor), friendly robot Twiki (played by The Addams Family's Felix Silla and voiced by Mel Blanc - aka Bugs Bunny), and sentient computer, Dr Theopolis.
Following the huge success of Star Wars and his own Battlestar Galactica, US TV producer Glen A Larson (The Six Million Dollar Man) turned the iconic American comic-strip character Buck Rogers into a colourful big-budget adventure series, which would run for two seasons from 1979-1981.
The show debuted on ITV on 30 August 1980 in the same Saturday time-slot as Doctor Who. It became so popular in the UK that Doctor Who's ratings fell to its lowest ever, prompting the BBC to move the show to a weekday evening slot. Buck Rogers in the 25th Century was later repeated on BBC2 in 1989 and again in 1995.
Now, after a HD 'Twiki', the classic sci-fi blasts off again – with every episode fully restored.
SPECIAL FEATURES • Buck Rogers in the 25th Century: Theatrical version of the pilot episode in Standard Definition • Awakening: Feature-length episode • Planet of the Slave Girls: Feature-length episode • Flight of the War Witch: Feature-length version • Time of the Hawk: Feature-length version • Journey to the Oasis: Feature-length version & two-part syndicated version (in HD)
Buck Rogers in the 25th Century is out on Blu-ray from Fabulous Films from 2 April 2018
Thank you for signing up to Whattowatch. You will receive a verification email shortly.
There was a problem. Please refresh the page and try again.