Camera Obscura | A spooked photographer puts a lens on horror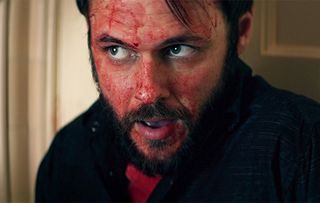 Take a Picture. Take a Life.
Still jittery with PTSD following a reporting stint in Afghanistan, burnt-out war photographer Jack (Christopher Denham) starts seeing impending deaths in his shots. He's understandably spooked. His increasingly manic efforts to avert the future, however, only make matters worse.
'Either this camera is demonic or I'm psychotic,' Jack raves as he comes to terms with the alarming pictures he finds himself taking with his newly acquired vintage camera, an anniversary gift from his fiancée Claire (Nadja Bobyleva).
What start out as innocuous images when Jack snaps them turn out to contain bodies when they get developed. But things turn even more deranged after he begins seeing Claire's corpse in the photos and discovers he can save the camera's victims if someone else dies in their stead.
Low-budget horror thriller Camera Obscura from director/co-writer Aaron B Koontz has an arresting premise and, although an overly complicated backstory means the narrative tends to go in an out of focus, its macabre streak of black humour is striking, too, as the weedy-looking Jack takes ever more desperate and grisly steps to come up with substitute victims.
Certificate 18. Runtime 90 mins. Director Aaron B Koontz
Camera Obscura debuts on Sky Cinema Premiere on 21 May. Available on Digital from Chiller Films.
https://www.youtube.com/watch?v=XOINDP-bsm0
Get the latest updates, reviews and unmissable series to watch and more!
Thank you for signing up to Whattowatch. You will receive a verification email shortly.
There was a problem. Please refresh the page and try again.