Clone - Eva Green and Matt Smith star in a creepy sci-fi fable told at a snail's pace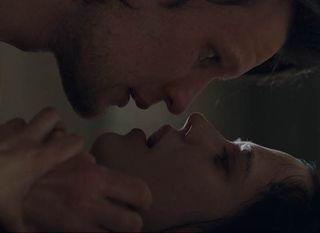 Former Bond girl Eva Green and current Doctor Who Matt Smith team up for this distinctly odd love-story-cum-sci-fi-drama in which Green's grief-stricken woman has herself impregnated with the embryonic clone of her dead childhood sweetheart (Smith). It all gets sticky and Oedipal, though, when her son grows up and maternal love starts blurring perilously with sexual attraction.
With her roles in this film and last year's Perfect Sense, Green appears to be the go-to girl for half-baked Euro sci-fi allegories. With good reason: few are more adept at giving a mad glint to seemingly sane characters. As her soul-mate-cum-son, Smith fares less well, veering between stroppiness and gormless bewilderment.
Stylishly shot on Germany's chilly North Sea coast (but set, seemingly, in England), Clone looks good and may get under your skin - if you can put up with the story's glacial pace, which is so creepingly slow that it's no wonder that the token of the pair's childhood love is a snail.
Released in London's West End on Friday 4th May and on Blu-ray & DVD from Arrow Films on Monday 7th May.
Get the latest updates, reviews and unmissable series to watch and more!
Thank you for signing up to Whattowatch. You will receive a verification email shortly.
There was a problem. Please refresh the page and try again.