Seventies bloodsucker Count Yorga rises from the crypt onto Blu-ray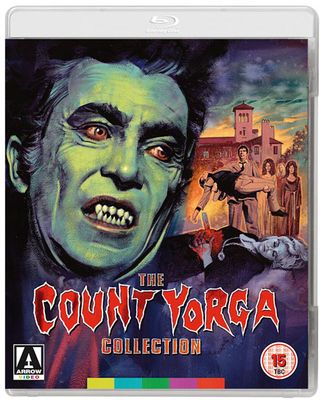 Robert Quarry's flamboyant vampire Count Yorga and his bloodsucking brides get the HD treatment on Blu-ray and DVD from Arrow Video in The Complete Count Yorga
Updating the vampire mythos to early 1970s Los Angeles, these much-loved cult classics star Robert Quarry (Dr Phibes Rises Again) as the svelte Count Yorga, living in a mansion in the southern California hills with his equally mysterious 'brides'. Introducing himself as a mystic from Bulgaria who's an expert on séances, his true nature is given away by the title of his first film, The Brides of Iorga - Vampire, long before the hapless Donna (Donna Anders) and her friends discover the truth. The sequel, The Return of Count Yorga, sees him relocate to San Francisco, where he has designs on an orphanage as a source of potential victims, but gets distracted by the prospect of the beautiful but innocent Cynthia (Mariette Hartley) becoming the latest addition to his harem.
Firm drive-in favourites from the moment they were first unleashed, the Count Yorga films were directed by Bob Kelljan (Scream Blacula Scream) with just the right mix of atmosphere, suspense and tongue-in-cheek humour, with Quarry's delivery of the Count's witty one-liners being a particular joy.
The Arrow Video UK release features high definition digital transfers of both films, from original film elements by MGM (hence some of the odd scratches), with the original mono audio and English subtitles. The extras are audio commentaries by David Del Valle, an interview with critic Kim Newman, trailers and new artwork by Graham Humphreys, plus a booklet written by Frank Collins.
Get the latest updates, reviews and unmissable series to watch and more!
Thank you for signing up to Whattowatch. You will receive a verification email shortly.
There was a problem. Please refresh the page and try again.