Cover Girl (1944) | Move over La La Land, this trailblazing Technicolor Hollywood musical is a must see in HD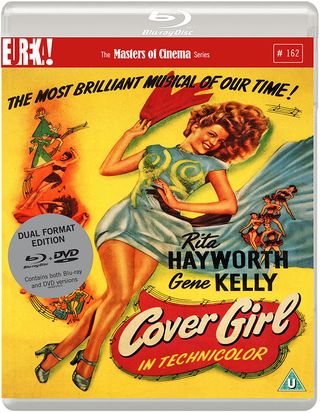 The Masters of Cinema presents the Rita Hayworth and Gene Kelly smash hit Cover Girl for the first time on dual format (Blu-ray/DVD) in the UK in HD from a 4k restoration.
When Brooklyn nightclub dancer Rusty (Rita Hayworth) wins a Cover Girl contest organised by press tycoon John Coudair (Otto Kruger), she finds herself heading to Broadway – much the chagrin of boyfriend Danny (Gene Kelly). But is fame and fortune a substitute for true love?
Following the success of two musicals teaming Rita Hayworth and Fred Astaire, Columbia cooked up this vehicle for Hayworth and signed up MGM contract dancer Gene Kelly as her co-star. It turned out to be a big success for the studio and Kelly's big break. Given that World War II was raging, Charles Vidor's glossy 1940s musical, with its colourful (read: OTT) costumes and whistle-worthy tunes from Jerome Kern and Ira Gershwin, was the ideal antidote to the grim horrors playing out in Europe and the Pacific.
By today's standards, the stereotypical characters, boy meets, loses and regains girl plot, and studio-bound production design might be dated, but the chemistry between Hayworth and Kelly is a knockout, and Kelly's big dance number in which he performs with his mirror image in a store window is a stand-out. In fact, it's well worth getting this sparkling new HD release just to see Kelly in action.
As the third wheel in Rusty and Danny's relationship, US comic Phil Silvers also stars – but he's quite annoying, unlike Eve Arden, who steals every scene she's in as the wise-cracking Stonewall Jackson (whose bizarre hats will excite lovers of Philip Treacy's designs). The film's opening also features real-life wartime cover girls from the likes of Vogue and Harper's Bazaar, while models Anita Colby (aka The Face) and Jinx Falkenburg cameo.
Eureka! presents Cover Girl as part of The Masters of Cinema Series on dual format (Blu-ray and DVD) from 13 February 2017.
SPECIAL FEATURES • High-definition presentation from a new 4K restoration • Optional English subtitles for the deaf and hard-of-hearing • Baz Luhrmann on Cover Girl • Masters of Cinema exclusive trailer • Booklet featuring a new essay on the film by Farran Smith Nehme
https://www.youtube.com/watch?v=dz23S5g3Hnk
Get the latest updates, reviews and unmissable series to watch and more!
Thank you for signing up to Whattowatch. You will receive a verification email shortly.
There was a problem. Please refresh the page and try again.