The Deadly Affair (1966) | Blu-ray world premiere – Sidney Lumet's chilling adaptation of John le Carré's Cold War spy drama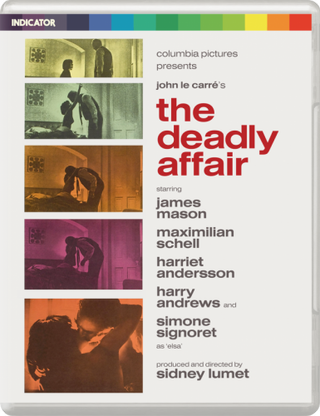 Based on John le Carré's first novel, Call for the Dead (which featured the first appearance of George Smiley), this 1966 espionage drama sees James Mason playing ageing British Secret Service agent Charles Dobbs (actually Smiley, but renamed as the character was owned by Paramount) stumbling on a spy ring as he investigates the truth behind a government employee's apparent suicide.
Eschewing the glamour of the era's Bond films, Sidney Lumet's chilling and intelligent take on the spy thriller presents a darkly sinister picture of Cold War intrigue, but laced with nail-biting excitement. Those helping Mason prove that spying is a shabby, shoddy business include Harry Andrews, Roy Kinnear, Simone Signoret, Maximilian Schell and Lynn Redgrave.
The Deadly Affair gets a Limited Dual Format Edition (Blu-ray premiere) from Powerhouse Films, as part of their Indicator Series.
SPECIAL FEATURES: • High Definition re-master • Original mono audio • Audio commentary with film historians Michael Brooke and Johnny Mains • The National Film Theatre Lecture with James Mason (1967, 48 mins): archival audio recording of an interview conducted by Leslie Hardcastle • The Guardian Lecture with Sidney Lumet (1983, 89 mins): archival audio recording of an interview conducted by Derek Malcolm at the National Film Theatre, London • A Different Kind of Spy: Paul Dehn's Deadly Affair (2017, 17 mins): writer David Kipen discusses the life and work of screenwriter Paul Dehn • Take One and Move On (2017, 5 mins): camera operator Brian West on The Deadly Affair • Lumet's London (2017, 4 mins): the London locations of The Deadly Affair explored • Original theatrical trailer • Image gallery: on-set and promotional photography • New English subtitles • Collector's booklet with a new essay by Thirza Wakefield, archival interviews with cinematographer Freddie Young and James Mason, and an overview of contemporary critical responses
Get the What to Watch Newsletter
The latest updates, reviews and unmissable series to watch and more!