Demon | A restless spirit crashes a rural wedding in hauntingly absurd Polish horror film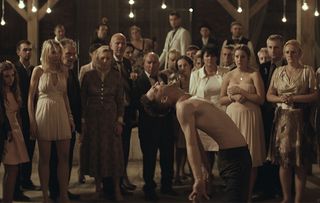 (Image credit: Courtesy of Content Media)
Slow-burn supernatural drama.
A lavish wedding reception in rural Poland descends into chaos after the bridegroom starts behaving very strangely. It appears the tormented wandering spirit of a dead girl, what Jewish folklore calls a dybbuk, has taken possession of Itay Tiran's groom, a Polish Londoner returning to his ancestral country. Don't be misled by this plot summary or the film's title.
Slow-burn supernatural drama Demon is actually closer to absurdist social comedy than it is to horror. Indeed, there's something positively Altmanesque about the spectacle of the bride's father plying the guests with more and more vodka to distract them from the groom's bizarre behaviour.
Underlying the humour, however, is a haunting message about the fate of Poland's Jews and the repression of historical memory. As one character chilling observes, 'The whole country is built on corpses'. Tragically, director Marcin Wrona committed suicide on the eve of his film's release.
Certificate 15. Runtime 94 mins. Director Marcin Wrona.
Demon available on DVD from Terracotta.
https://www.youtube.com/watch?v=982hEev1E6Y
Get the latest updates, reviews and unmissable series to watch and more!
Thank you for signing up to Whattowatch. You will receive a verification email shortly.
There was a problem. Please refresh the page and try again.