Dr Terror's House of Horrors (1965) | Blu-ray release - The British horror anthology cult classic gets a terrific HD restoration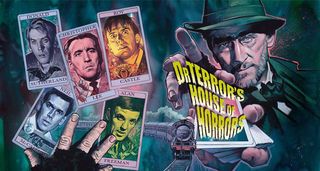 Dr Shreck (Peter Cushing) is a mysterious fortune teller who boards a train and offers to tell fellow passengers (Christopher Lee, Roy Castle, Donald Sutherland, Alan Freeman and Neil McCallum) their fortune with tarot cards. Five possible futures unfold: an architect returns to his ancestral home to find a werewolf out for revenge; a huge flesh-eating vine takes over a house; a musician gets involved with voodoo; an art critic is pursued by a disembodied hand; and a doctor discovers his new wife is a vampire. But they all end in the same result….. DEATH.
This fascinating and fast-paced 1965 portmanteau from the legendary Amicus film company (Hammer's big rival in the 1960s and 1970s) is one of the best of British horror anthologies ever made and has now been given a new 4k remastering at Pinewood for this Blu-ray release from Screenbound Pictures (formely Odeon Entertainment).
But apart from how pristine and wonderful it all looks, it's the brilliant new artwork that graces the limited edition (4000) Steel Book release that's a real treat for horror fans. It's been illustrated by Graham Humphreys, who's been dubbed Britain's 'Quad-Father', due to his iconic illustrations for posters on contemporary classics like The Evil Dead and Nightmare on Elm Street, and his work for Arrow and the Vincent Price Legacy (opens in new tab) in the UK. READ MORE… (opens in new tab)
http://www.youtube.com/watch?v=0MpIFNGIu30
Thank you for signing up to Whattowatch. You will receive a verification email shortly.
There was a problem. Please refresh the page and try again.