Fishing Without Nets | Somali pirates land a deadly catch off the Horn of Africa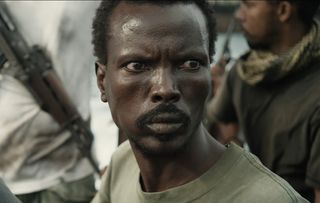 Imagine hijacking drama Captain Phillips told from the point of view of the Somali pirates and you have the basis for the bleakly serious thriller Fishing Without Nets.
Why is piracy endemic off the Horn of Africa? First-time director Cutter Hodierne wastes no time in cutting to the chase. The answer stares us in the face. It is years of war and famine. These are the spurs for the film's protagonist, Somali fisherman Abdi (Abdikani Mukhtar), to join a band of high-seas hijackers on their latest venture, albeit reluctantly.
Striking authenticity
The ship they capture, however, is a rusting oil tanker with no cargo. The white men among the crew, including French captain Charlie (Eric Godon) and sailor Victor (Reda Kateb), are worth more than the ship. But only if the increasingly fractious pirates keep them alive.
With the hostage negotiations kept off screen, Fishing Without Nets doesn't deliver Captain Phillips' white-knuckle suspense. Indeed, the pace is often painfully slow, while the story's mordant ironies are a little too on the nose - with Abdi guarding Victor while his own wife and son, consigned to people smugglers, are also being held captive.
Yet Hodierne, shooting off the coast of Kenya with a cast of Somali non-professional actors, gives his film striking authenticity. And his compassion and empathy for his subjects is never in doubt.
Certificate 15. Runtime 109 mins. Director Cutter Hodierne
Fishing Without Nets debuts on Sky Cinema Premiere on 31 May.
https://www.youtube.com/watch?v=wRr0VA_HFaE
Get the latest updates, reviews and unmissable series to watch and more!
Thank you for signing up to Whattowatch. You will receive a verification email shortly.
There was a problem. Please refresh the page and try again.