Goodbye Christopher Robin | Exploring the joy and pain behind AA Milne's Winnie the Pooh stories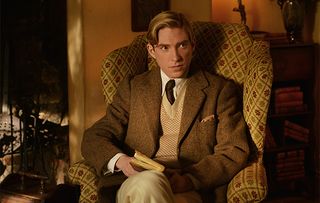 (Image credit: David Appleby)
Grin and bear it.
Say the name Christopher Robin and there won't be many who aren't instantly transported to the Hundred Acre Wood and nostalgically cosy memories of childhood. However, this terrific British movie about the origins of author AA Milne's Winnie the Pooh stories is not all jolly games of Pooh sticks and jaunty Heffalump hunts. Instead, My Week with Marilyn director Simon Curtis's surprisingly poignant drama, Goodbye Christopher Robin, uncovers the pain as well as the joy lying behind the tales.
Domhnall Gleeson's Milne is haunted by his military experiences during World War One and struggles with writer's block after he moves with his socialite wife, Daphne (Margot Robbie), and their young son, Christopher Robin (Will Tiltson), to the Sussex countryside - until he begins creating stories featuring his son's stuffed toys. But literary success comes at a price for the real-life Christopher Robin as he finds himself thrust into an increasingly glaring public spotlight.
Working from a fine screenplay by Frank Cottrell Boyce and Simon Vaughan, Curtis successfully balances his film's sadder elements with moments of merriment and bliss, and he gives the scenes of bonding between awkward father and neglected son an appropriately honey-golden glow.
Moreover, Gleeson is superb as the stiff-upper lipped, traumatised Milne, and Tiltson is adorably cute as the young Christopher Robin. Robbie, admittedly, is somewhat short-changed by her role as the shallow Daphne. But Kelly Macdonald mines deeper emotions as the family's shrewd and sensitive nanny.
Certificate PG. Runtime 107mins. Director Simon Curtis
Goodbye Christopher Robin is available on Digital, and on Blu-ray & DVD from 26 February.
https://www.youtube.com/watch?v=IsAlKzokl-8
Get the latest updates, reviews and unmissable series to watch and more!
Thank you for signing up to Whattowatch. You will receive a verification email shortly.
There was a problem. Please refresh the page and try again.