Heathers | Blu-ray/DVD release – The cult 1980s classic gets a 30th-anniversary 4K restoration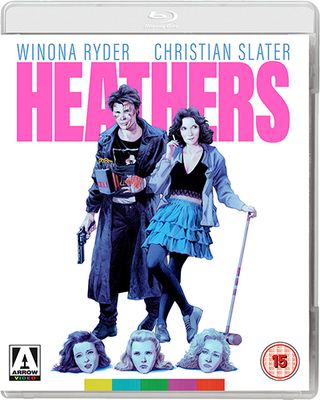 Arrow Video releases the 30th Anniversary 4K restoration of 1988's Heathers, starring Winona Ryder and Christian Slater, on special edition DVD and Blu-ray
In an Ohio high school, the Heathers (Shannen Doherty, Kim Walker and Lisanne Falk) set the often cruelly superficial pace of fashion, friendship and good looks. Veronica Sawyer (Winona Ryder) is part of the clique. But her secret mixed feelings about the trio are brought into deadly focus when she becomes friends with the charismatic JD (Christian Slater), whose easy grin hides a psychotic nature and whose plans to 'kill' one of the Heathers and a couple of school bullies with 'fake' frightening schemes prove to Veronica's horror to be all too real…
This high school satire is an 1980s-defining cult classic, subversive and mega weird, and features career-best performances from both Ryder and Slater – especially Slater, whose dark sociopath JD is a worthy successor to Norman Bates.
Arrow Video's 4K Blu-ray and DVD restoration release (out today) of the cult classic includes a host of bonus content that makes off-kilter teenage black comedy worthy of a revisit.
https://youtu.be/eiiZLsUqmQ8
SPECIAL EDITION CONTENTS • New restoration from a 4K scan of the original camera negative by Arrow Films • High Definition Blu-ray (1080p) presentation & Standard Definition presentation (DVD) • Original 1.0 mono audio and optional 5.1 DTS-HD Master Audio • Optional English subtitles for the deaf and hard of hearing • Audio commentary by director Michael Lehmann, producer Denise Di Novi and writer Daniel Waters • Newly filmed interview with director Michael Lehmann • A newly filmed appreciation by the writer, actor and comedian John Ross Bowie (The Big Bang Theory) • Pizzicato Croquet: composer David Newman and director Michael Lehmann discuss the music of Heathers • How Very – The Art and Design of Heathers: production designer Jon Hutman, art director Kara Lindstrom and director Michael Lehmann discuss the look of Heathers • Casting Westerberg High: casting director Julie Selzer discusses the casting process for Heathers • Poor Little Heather: a new interview with actress Lisanne Falk • Swatch Dogs and Diet Coke Heads: Archival featurette with extensive cast and crew interviews providing an in-depth look at the making of Heathers • Return to Westerberg High: Archival featurette providing further insight into the film's production • Original trailers • Newly commissioned artwork by Robert Sammelin • Collector's booklet featuring new writing by Bidisha, Anna Bogutskaya and an archival interview with cinematographer Francis Kenny (First pressing only)
Get the latest updates, reviews and unmissable series to watch and more!
Thank you for signing up to Whattowatch. You will receive a verification email shortly.
There was a problem. Please refresh the page and try again.