In Dubious Battle | James Franco tackles literary giant John Steinbeck's Depression-era tale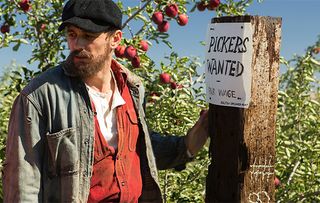 (Image credit: © 2016 Dubious Productions Inc.)
James Franco has already directed cinematic versions of books by American literary giants William Faulkner and Cormac McCarthy. Now he turns to John Steinbeck with In Dubious Battle, an earnest, only partially successful adaptation of the author's 1936 novel about a fruit pickers' strike in Depression-era California.
Franco also takes the leading role of the coldly calculating communist agitator behind the walkout, Mac, who puts his political cause ahead of the people he is purportedly aiding and is not beyond giving a 'serendipitous tug' to events to get things going.
It turns out that Franco the director is fine on the nitty-gritty details of the strike, as Mac and his callow young protégé Jim (Nat Wolff) stir the migrant workers up and cannily nudge Vincent D'Onofrio's guileless family man London into becoming their figurehead.
When it comes to charting the moral and emotional journeys the characters take, however, the movie is all too clumsy. Yet the film is never less than watchable, thanks in part to vivid turns from the likes of Robert Duvall (the unbending landowner determined to crush the strike), Sam Shepard (the crusty but grudgingly sympathetic farmer who lets the strikers camp on his land), Ed Harris (a volatile veteran radical, befuddled from too many police beatings) and Bryan Cranston (the hardnosed local sheriff). Elsewhere in the star-packed cast, former Disney starlet Selena Gomez and The Hunger Games' Josh Hutcherson also take significant supporting roles.
Certificate 15. Runtime 110 mins. Director James Franco
In Dubious Battle debuts on Sky Cinema Premiere on 15 January. Available on Blu-ray, DVD & Digital from Universal Pictures.
https://www.youtube.com/watch?v=__93O5CGSn4
Get the latest updates, reviews and unmissable series to watch and more!
Thank you for signing up to Whattowatch. You will receive a verification email shortly.
There was a problem. Please refresh the page and try again.