Jubilee (1978) | Derek Jarman's notorious study of British punk culture gets a 40th anniversary release on Blu-ray and DVD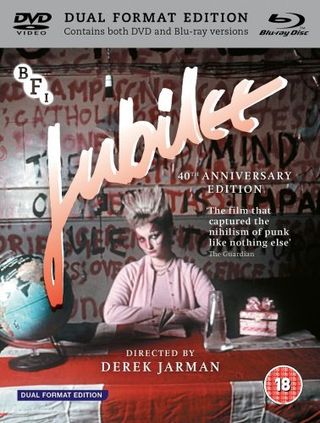 The BFI releases Derek Jarman's Jubilee on Blu-ray and DVD, featuring a brand-new 2k remaster, on 18 June 2018.
Queen Elizabeth I (Jenny Runacre) is transported forward in time by her court astrologer, John Dee (Rocky Horror's Richard O'Brien) to a shattered Britain of the 1970s, where the present Queen is dead, Buckingham Palace has been turned into a recording studio, and law and order has completely broken down. Moving through the city, Elizabeth observes a group of aimless nihilists, including Amyl Nitrite (Jordan), Bod (Runacre in a dual role), Chaos (Hermine Demoriane), Crabs (Nell Campbell), and Mad (Toyah Willcox)…
This notorious study of British punk culture from avant-garde director Derek Jarman has garnered a huge cult following over the past 40 years, but when it was first released, Vivienne Westwood famously created a T-shirt with an open letter to Jarman printed on it denouncing the film and his misrepresentations of punk. And when it got its first C4 screening, it was deemed 'corrupting, pernicious filth'.
Today Jubilee stands as one of the few British features of the late-1970s to capture on film performances and cameos from some of most iconic bands of the era, including Adam and the Ants, The Slits and Siouxsie and the Banshees. And for that reason alone is why you should seek this new BFI release out...
Jubilee is released on Blu-ray for the first time, featuring a 2K re-master from the original camera negatives, and is presented in both HD and SD (on the DVD).
SPECIAL FEATURES • A Message from the Temple (1981, 5 mins) • Toyah Willcox: Being Mad (2014, 8 mins); the singer and actress looks back on her role in Jubilee • Jordan remembers Jubilee (2018, 33 mins): punk icon Jordan looks back on her friendship with Derek Jarman and the making of Jubilee • Lee Drysdale remembers Jubilee (2018, 17 mins): Derek Jarman's friend, and later collaborator recalls his unconventional involvement in the making of Jubilee • Jubilee image gallery • Illustrated booklet featuring a contemporary review
Get the latest updates, reviews and unmissable series to watch and more!
Thank you for signing up to Whattowatch. You will receive a verification email shortly.
There was a problem. Please refresh the page and try again.