Marty (1955) | The beloved American love story starring Ernest Borgnine on Blu-ray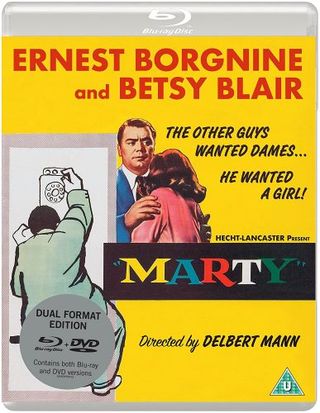 1955's Marty was the first ever recipient of the Palme d'Or and a four-time Oscar winner. Now, the sentimental, heart-warming love story starring Ernest Borgnine and Betsy Blair gets a dual format release from Eureka Classics
Hollywood's big chiefs were shocked by the critical and commercial success of this sentimental drama about a mid-thirties New York butcher (Ernest Borgnine) living with his smothering mother who hesitantly follows his heart when he meets plain schooleacher Clara (Betsy Blair).
With Widescreen and Technicolor wooing the crowds in the mid-1950s, a studio-bound black and white film based on a TV play may not have seemed to have any box-office potential. But Ernest Borgnine showed such range and depth that his performance earned him a well-deserved Oscar. The film also won Best Director for Delbert Mann, Best Picture, and Best Screenplay for Paddy Chayefsky (adapting his own TV script).
https://youtu.be/nchN0nEsXnA
This is without doubt Borgnine career-defining role, while Esther Minciotti, as his mother, gives fine support and Betsy Blair, the plain girl he falls in love with, is delicately effective. This is not to be missed.
Eureka Classics presents Marty in a special dual format edition, that includes the film on Blu-ray for the first time in the UK, with the following special features… • A new video interview with film scholar Neil Sinyard • Original trailer presented by Burt Lancaster • Marty (1953) – The original teleplay broadcast on NBC in 1953, also directed by Delbert Mann and starring Rod Steiger in the title role • Archival interviews with Delbert Mann and the cast of the original teleplay (Rod Steiger, Nancy Marchand and Betsy Palmer)
Thank you for signing up to Whattowatch. You will receive a verification email shortly.
There was a problem. Please refresh the page and try again.