Moana | Disney's Polynesian princess sets sail for adventure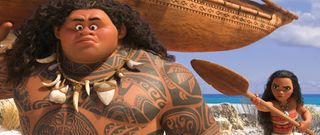 (Image credit: Disney)
Disney's breezy animated musical Moana takes inspiration from Polynesian myth for its tale of a feisty young heroine (voiced by Hawaiian teenager Auli'i Cravalho) who sets off on an ocean-going quest to save her dying island.
To do so, she must cajole shape-shifting demigod Maui (a perfectly cast Dwayne Johnson) into helping her return a precious stone to the heart of island goddess Te Fiti. Maui stubbornly refuses to help, but Moana has the spirit of the ocean on her side…
"Johnson's rascally demigod"
A successor to Frozen, Disney's latest princess-y adventure gets off to a slow start, but the story picks up when Johnson's rascally demigod comes on board. His body covered with tattoos advertising his past exploits, he is boastful and selfish, but his amiably boisterous swagger makes him hugely likeable all the same.
Moana won't achieve classic status. The movie's songs – written by Hamilton creator Lin-Manuel Miranda and Samoan singer-songwriter Opetaia Foa'i – are catchy without being particularly distinctive. The line between annoying earworm and memorable classic is a fine one, and I'm not convinced Moana's tunes fall on the right side. But the film's animation is splendid (the water looks amazing) and its humour infectious, while the refreshingly unusual South Sea island setting makes up for the movie's more conventional traits.
Certificate PG. Runtime 103 mins. Director Ron Clements, John Musker
Moana is available on Blu-ray, DVD & Blu-ray 3D from Walt Disney Studios.
https://www.youtube.com/watch?v=LKFuXETZUsI
Get the latest updates, reviews and unmissable series to watch and more!
Thank you for signing up to Whattowatch. You will receive a verification email shortly.
There was a problem. Please refresh the page and try again.