Modern Life Is Rubbish | Josh Whitehouse and Freya Mavor star in a Hornby-esque rom-com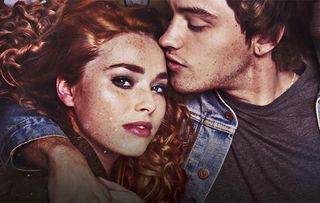 (Image credit: Universal Pictures)
Copying its title from Blur's second album, London-set romantic comedy drama Modern Life Is Rubbish features a protagonist right out of Nick Hornby's High Fidelity: the nerdy music-obsessed male who is indeed rubbish when it comes to relationships.
Josh Whitehouse's wannabe rock star Liam could probably match John Cusack's Rob, High Fidelity's hero, when it comes to pop trivia, but he has a fraction of his wit and charm. Which means it's hard to care whether or not his indie band Head Cleaner makes it big, or whether he gets back together with long-suffering girlfriend Natalie (Freya Mavor).
Wacky rock guru.
Expanding his 2009 short film of the same name (which saw Rafe Spall's pop obsessive dividing his CD collection with his ex), director Daniel Jerome Gill cuts back and forth between Liam and Natalie's breakup and their initially harmonious time together. Right from the start, however, Whitehouse's spaniel-eyed Liam is such a drippy, feckless bore that our sympathies always lie with Mavor's pragmatic, level headed Natalie.
Ian Hart pops up amid all the moping and montages as a wacky rock guru called The Curve, and the action always perks up when his self-styled 'sonic alchemist' is around. Even so, I reckon the film could have done with some of his boasted magic touch.
Certificate 15. Runtime 104 mins. Director Daniel Jerome Gill
Available on DVD & Digital from Universal Pictures.
https://www.youtube.com/watch?v=Fww6VlVIQEg
Get the latest updates, reviews and unmissable series to watch and more!
Thank you for signing up to Whattowatch. You will receive a verification email shortly.
There was a problem. Please refresh the page and try again.