Night Fare | Two friends rue the night they try to bilk a Paris taxi driver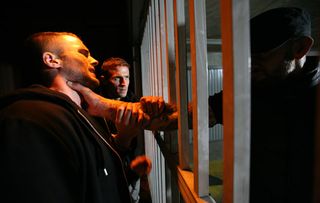 (Image credit: © Content Media)
There are no deadlines that never come due, no debts ever paid.
Relentless and unstoppable, a psycho cab driver pursues a pair of fare-dodging friends across night-time Paris in the stylishly shot horror thriller Night Fare.
A silent, tattooed hulk, the driver (Jess Liaudin) is as implacable as the truck in Steven Spielberg's Duel and almost as effective as a source of dread. However, it seems his prey - uptight Englishman Chris (Jonathan Howard) and cocky Frenchman Luc (Jonathan Demurger) – have their own guilty secrets. Which complicates our sympathies as the film unfolds.
Things take a surprising, motive-revealing turn 10 minutes from the end that may lose some viewers but offer others food for thought.
Certificate 15. Runtime 81 mins. Director Julie Seri
Night Fare debuts on Sky Cinema Premiere on Wednesday 7 June.
https://www.youtube.com/watch?v=wIyxFq_vCXg
Get the latest updates, reviews and unmissable series to watch and more!
Thank you for signing up to Whattowatch. You will receive a verification email shortly.
There was a problem. Please refresh the page and try again.