Road Games (2015) | DVD release – A suspenseful thrill ride into the dark heart of rural France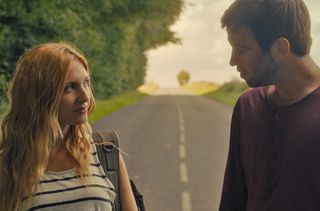 Abner Pastoll's murder mystery Road Games heads to Horror Channel FrightFest and DVD.
The gorgeous French countryside (actually Maidstone, Kent) is the setting for the unsettling thriller Road Games where suspicion and road kill is the order of the day. British drifter Jack (Nick Nickleby's Andrew Simpson) is trying to get to Calais when he encounters another hitchhiker, the enigmatic Veronique (Josephine de la Baume), along a stretch of road where they learn a serial killer is on the loose.  Taken in for their own safety by the overly-friendly Grizard (The Returned's Frederic Pierrot) and his somewhat nervous wife Mary (Barbara Crampton of Re-Animator fame), who live in a half-lived-in mansion, Veronique soon begins to suspects something amiss… And she's right! For what follows is some splendid old dark house scares, some shocking twists – as every character become suspect – and some nail-biting The Hitcher-styled chills.
With a cracking cast and direction that would make Hitchcock proud, Road Games is a winner all the way. Oh, and the house used in the film was last seen on the big-screen in 1980's The Mirror Crack'd with Elizabeth Taylor. Check it out here: http://stclere.co.uk/ (opens in new tab)
• Out on DVD from Monday 29 August 2016 and on VOD and for download from Friday 26 August 2016 from Frightfest Presents
• Road Games will also be screening at Horror Channel FrightFest on Friday 26th August. Check it out here. (opens in new tab)
https://www.youtube.com/watch?v=OVDqcyinElY
Get the latest updates, reviews and unmissable series to watch and more!
Thank you for signing up to Whattowatch. You will receive a verification email shortly.
There was a problem. Please refresh the page and try again.