Roxanne | Steve Martin's comic masterpiece makes its Blu-ray bow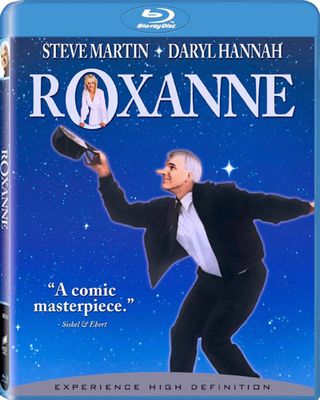 Steve Martin's 1987 romantic comedy Roxanne, his witty, sweet, utterly delightful update of Edmond Rostand's 1897 stage play Cyrano de Bergerac, has made its Blu-ray debut in a Dual Format edition from Eureka Entertainment. And four decades on, the movie has lost none of its charm.
Written by Martin and directed by Fred Schepisi (in between Plenty and A Cry in the Dark), Roxanne cleverly transposes Rostand's verse drama from 17th-century France to a sleepy ski resort in modern-day British Columbia and turns the play's fearless swordsman into Martin's local fire chief, CD Bales.
Like his predecessor, Martin's CD is quick-witted, dashing and romantic, but extremely self-conscious about the size of his unfeasibly large nose. Which causes him no end of woe when he falls for Daryl Hannah's beautiful astronomer Roxanne. Too abashed to woo her himself, he ends up penning love letters to her on behalf of his handsome but knuckle-headed colleague Chris (Rick Rossovich), which leads to a series of comic misunderstandings and misadventures.
"A departure for Martin"
Roxanne marked a departure for Martin from the madcap lunacy of such films as The Jerk, Dead Men Don't Wear Plaid and The Man with Two Brains but the film still has its share of inspired silliness, including the hilarious scene in which CD describes being abducted by aliens to a group of elderly women. ('He had big suckers on his palms.') CD's inept bunch of fire volunteers, bumbling heirs to silent cinema's Keystone Cops, provide their own cherishable moments of slapstick buffoonery as well.
This knockabout stuff goes hand in hand with great verbal wit, memorably illustrated in the episode – taken from Rostand's original – when CD demolishes a barroom bore by coming up with 20 nose insults in response to his feeble taunt of 'big nose'.
Throughout the film, Martin finds nimble ways of updating his source. Instead of wielding a rapier, like his precursor, CD duels with a tennis racquet when he takes on a pair of loutish skiers. Like Cyrano, he too stands beneath his beloved's balcony, pretending to be his rival and seducing her with his words. In Rostand's play, the tale's ultimate outcome is heartbreaking. Unlike Cyrano, however, CD has a happy ending.
Certificate PG. Runtime 107 mins. Director Fred Schepisi
Roxanne is available in a Dual Format (Blu-ray & DVD) edition from Eureka Entertainment.
https://youtu.be/Y3bwHtPZfps
SPECIAL DUAL FORMAT FEATURES · New high-definition presentation · Stereo and 5.1 soundtrack options · English subtitles for the deaf and hard-of-hearing · Original theatrical trailer
Get the latest updates, reviews and unmissable series to watch and more!
Thank you for signing up to Whattowatch. You will receive a verification email shortly.
There was a problem. Please refresh the page and try again.