Space Truckers (1996) | Dennis Hopper and Charles Dance star in an action-packed intergalactic adventure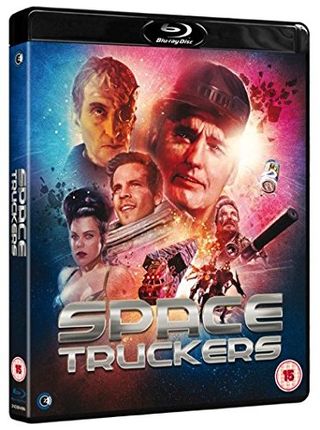 Space-travelling truckers, deathly machines and evil pirates crash the cosmos in a classic sci-fi romp. Out on Blu-ray from Second Sight.
'This special effects fest uses its material well...adds a soupçon of Pythonesque absurdity ...fun, with a nicely sardonic twisty-plotty ending' ★★★★ Total Film
When his profits are stolen following a delivery of genetically-modified pigs, maverick space trucker John Canyon (Dennis Hopper) takes a profitable, no-questions-asked cargo to Earth, accompanied by apprentice trucker Mike (Stephen Dorff) and his girlfriends Cindy (Entourage's Debi Mazar). But on the way they are captured by pirates, led by Captain Macanudo (Charles Dance), who discovers the secret cargo - an army of androids that capitalist corp chief EJ Saggs (Thunderbirds' Shane Rimmer) is planning to use to takeover Earth…
With its high production values and tongue-in-cheek humour, not to mention the knockabout performances from Hopper and Dance, this cheesy sci-fi romp (filmed at the legendary Ardmore Studios in County Wicklow, Ireland) is an intergalactic thrill ride, while the climactic robot battle is pretty impressive.
Space Truckers is out on Blu-ray for the first time in the UK in this newly-restored edition complete with brand new bonus features, courtesy of Second Sight.
SPECIAL FEATURES • Brand new restoration • Space Trucking with Stuart Gordon: A new interview with director Stuart Gordon • Scoring Space Truckers: A new interview with composer Colin Towns • The Art of Space Truckers: A new interview with art director Simon Lamont • Cover art by Rich Davies • English subtitles
Get the What to Watch Newsletter
The latest updates, reviews and unmissable series to watch and more!