Suddenly, Last Summer (1959) | The vivid screen version of Tennessee Williams Southern gothic play gets a UK Blu-ray premiere release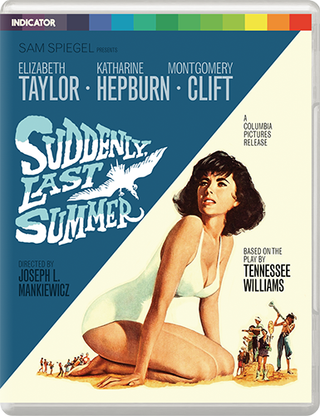 From Indictor/Powerhouse Films comes the UK premiere Blu-ray release of Suddenly, Last Summer starring Elizabeth Taylor, Katharine Hepburn and Montgomery Clift
Three Oscar-winners (Elizabeth Taylor, Katharine Hepburn and Mercedes McCambridge) compete for the acting honours in this gripping Southern gothic melodrama, based on Tennessee Williams' play, and directed by Joseph L Mankiewicz (All About Eve).
Beautiful Catherine Holly (Elizabeth Taylor), after witnessing the violent death of her cousin, Sebastian, is committed to a mental institution. Sebastian's mother, Mrs Venable (Katharine Hepburn), tries to persuade brain surgeon Dr Cukrowicz (Montgomery Clift) to lobotomise her disturbed niece to dispel her 'hallucinations' about his death. The more he meets the Catherine, however, the more the surgeon becomes convinced that her 'hallucinations' could well be entangled with some very strange facts…
Wildly controversial at the time of its release, this delirious mix of lurid melodrama and Gothic horror stills packs a provocative punch. Hepburn wins the acting battle as the iron-willed matriarch, while the film is so powerfully written by Gore Vidal and Williams himself that it's almost frightening at times.
Released on 30 April, the Indicator Blu-ray Region Free Edition (limited to 3000 copies) from Powerhouse Films features a 4k restoration of the 1959 drama with the following extras…
INDICATOR LIMITED EDITION SPECIAL FEATURES: • Joseph L Mankiewicz Interview (1990, 10 mins) • Elizabeth Taylor on Montgomery Clift (1966, 2 mins) • Actor Gary Raymond on Suddenly, Last Summer (2018) • About Last Summer (2018, 16 mins): interview with second assistant editor John Crome • Remembering Last Summer (2018, 3 mins): interview with continuity supervisor Elaine Schreyeck • The Predator and the Prey (2017, 26 mins): with critic and film historian Michel Ciment • Isolated music and effects track • Original theatrical trailer • Trailer commentary with Dan Ireland (2013, 3 mins): a short critical appreciation • Image gallery • New and improved English subtitles and original mono audio • Collector's booklet
Thank you for signing up to Whattowatch. You will receive a verification email shortly.
There was a problem. Please refresh the page and try again.