The Blue Lagoon (1980) | Blu-ray release – Brooke Shields and Christopher Atkins in the South Pacific-set love story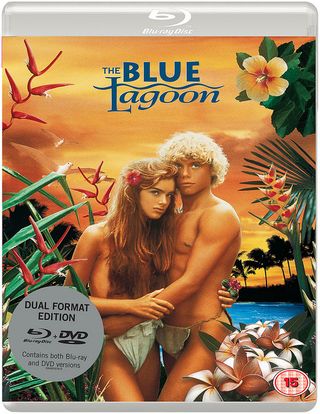 From Eureka Entertainment comes 1980's The Blue Lagoon, starring Brooke Shields and Christopher Atkins, out on Blu-ray in the UK for the first time in dual format.
Cousins Emmeline (Brooke Shields) and Richard (Christopher Atkins) are bound for San Francisco aboard a Victorian schooner with Richard's father when a fire breaks out and the children are cast adrift with Paddy (Leo McKern), the ship's drunken cook. Landing on an unknown island, Paddy dies leaving the youngsters to fend for themselves…
Grease director Randal Kleiser's 1980s take on Henry De Vere Stacpoole's 1903 novel (previously filmed with Jean Simmons) is certainly beautiful to look at. Not only does it vividly capture the lush beauty of a South Pacific paradise (Néstor Almendros' photography was nominated for an Oscar), it also unsensationally captures the transformation of its attractive young leads, as they shake off their Victorian upbringing to discover the facts of life in an idyllic virgin setting.
Short on action and suspense, and long on scenes involving periods, masturbation, sexual union and giving birth – albeit with a glossy sheen, the film may have been panned by the critics, but audiences loved it – making it the ninth biggest box office hit in the US in 1980. It also sent Brooke Shields' celebrity status sky high (mainly on account of the nude scenes, in which a body double was actually used), and turned Atkins into a teenage heart-throb – for all of 10-minutes.
THE EUREKA ENTERTAINMENT RELEASE • High-Definition presentation • Isolated music and effects track • Two separate audio commentary tracks, featuring director Randal Kleiser, Brooke Shields, Christopher Atkins and writer Douglas Day Stewart • An Adventure in Filmmaking – featurette on the film's production • Theatrical trailer
https://www.youtube.com/watch?v=DYhhph8uZyk
Get the What to Watch Newsletter
The latest updates, reviews and unmissable series to watch and more!