The Private Life of Sherlock Holmes (1970) | Billy Wilder's underrated masterpiece gets a first-time UK Blu-ray release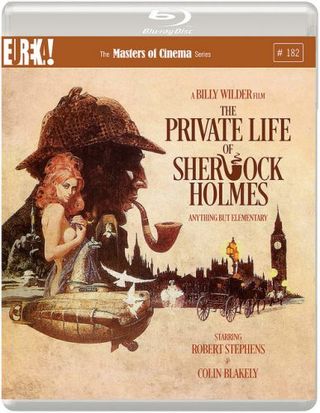 Eureka Entertainment releases Billy Wilder's underrated adventure comedy The Private Life of Sherlock Holmes, as part of The Masters of Cinemas Series on Blu-ray for the first time in the UK.
Director Billy Wilder's personal, melancholic celebration of Conan Doyle's great detective was originally conceived as a three and a half hour extravaganza, and he never forgave the studio for hacking it to bits (with many of the deleted scenes now lost forever).
What remains is rewarding, but it leaves you begging for more, as the bored Baker Street sleuth (Robert Stephens) investigates a mystery that takes him from London to Inverness involving an enigmatic amnesiac (Genevieve Page), Holmes' conniving brother Mycroft (Christopher Lee), Queen Victoria and – yes – the Loch Ness Monster.
Stephens plays Holmes with tortured, whimsical perfection, and both Blakely and Lee are perfectly cast in their respective roles, but it's Irene Handl rather than the alluring Page who steals every scene she's in. Her Mrs Hudson is a comic stand-out.
The film's rich period detail and authentic locations is also matched by the witty script (one of 11 that Wilder and I. A. L. Diamond wrote together) and the whole affarir sparkles like a well-polished (rough) diamond. No wonder it inspired Mark Gatiss and Steven Moffat's award-winning modern-day TV drama.
SPECIAL FEATURES • 1080p presentation • Uncompressed PCM soundtrack • Optional English subtitles • A new video interview with film scholar Neil Sinyard • The Missing Cases (50 mins): A presentation of deleted sequences, using script excerpts, production stills and surviving film footage. • Deleted Epilogue Scene (audio only) • Christopher Lee: Mr. Holmes, Mr. Wilder - an archival interview with Christopher Lee about his experience working with Billy Wilder • Interview with editor Ernest Walter • Original theatrical trailer • Collector's booklet
https://youtu.be/sFvUB6cn_IA
Get the latest updates, reviews and unmissable series to watch and more!
Thank you for signing up to Whattowatch. You will receive a verification email shortly.
There was a problem. Please refresh the page and try again.