The St. Valentine's Day Massacre (1967) | The Prohibition era mob movie starring Jason Robards gets a 4k restoration release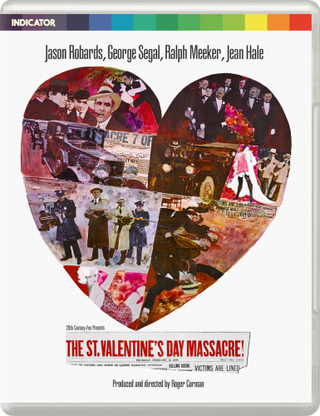 From Powerhouse Films comes the Indicator UK Blu-ray premiere release of The St Valentine's Day Massacre
Roger Corman's most expensive production – and his only film for a major studio – is a violent account of the events leading up to one of the most infamous events in American crime history.
In 1929, when this film opens, feuding Chicago mob bosses Al Capone (Jason Robards) and Bugs Moran (Ralph Meeker) are both vying for control of a US vice empire estimated to be worth more than $300million a year. Capone then puts in motion a plan to take out the competition once and for all…
Corman's mob movie pays meticulous attention to period detail, but there are few genuine thrills, although film fans will have fun picking out the familiar faces. As fellow mobster Peter Gusenberg, George Segal plays it like a demented tribute to James Cagney, while Jack Nicholson has a bit-part as a hitman, and Dick Miller (Gremlins) and Jonathan Haze (Little Shop of Horrors) play a pair of phoney policemen.
Trivia fans take note: Orson Welles was Corman's original choice for Capone, but he was overruled by 20th Century Fox, while many of the sets were leftovers from other movies, including The Sand Pebbles and The Sound of Music.
The Powerhouse Films/Indicator UK Blu-ray, featuring a 4k restoration, is out on 30 April, and includes the following special features…
• Roger Corman Remembers: The St. Valentine's Day Massacre (2014, 4 mins) • Scenes of the Crime (2018, 14 mins): a critical analysis by film historian Barry Forshaw • The Man of a Thousand Voices (2018, 11 mins): an appreciation of voice actor Paul Frees by Ben Ohmart • Super 8 version • Original theatrical trailer • Roger Corman trailer commentary (2013, 3 mins) • Gallery • Collector's booklet with a new essay by Neil Sinyard
Get the latest updates, reviews and unmissable series to watch and more!
Thank you for signing up to Whattowatch. You will receive a verification email shortly.
There was a problem. Please refresh the page and try again.