The Wild One (1953) | UK Blu-ray premiere – Marlon Brando's vintage biker movie in HD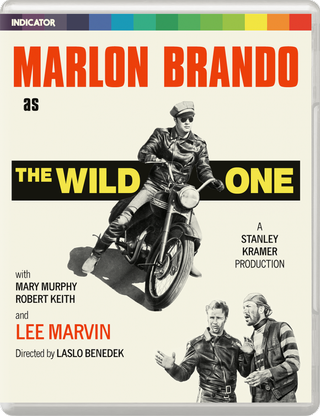 It's hard to believe now, but The Wild One, which is regarded as THE original biker movie – directed by Laslo Benedek and produced by Stanley Kramer – was once considered so dangerous to the youth of the day that it was banned by the British Board of Censors until 1967.
Dressed in black leather jacket and turned-up jeans, Marlon Brando certainly exudes an effortless coolness as hardened biker Johnny Strabler, whose Black Rebel motorcycle gang roar into a quiet little California town to raise hell. But while Brando's mythic delinquency has become part of pop culture, it's actually Lee Marvin who makes a far more persuasive and realistic impression as Johnny's loud-mouthed arch nemesis, Chino.
Far less frightening than the grim reality of teenage gang violence today, the vintage biker drama is still, nevertheless, an intense cinematic experience. It also boasts one of the cinema's immortal exchanges: 'What are you rebelling against?' 'What ya got?'
The Wild One is available in a Limited Dual Format Edition (UK Blu-ray premiere) from Powerhouse Films in the UK with the following features:
• High Definition and monaural audio re-master • Audio commentary by author and film historian Jeanine Basinger • The Wild One and the BBFC (2017, 25 min): ex-BBFC examiner Richard Falcon discusses the film's history with the British censor • Introduction to the film by Karen Kramer (2007, 1 min) • Hollister, California: Bikers, Booze and the Big Picture (2007, 28 min): a look back at the real life events that inspired the film • Brando: An Icon is Born (2007, 19 min): a documentary exploring the life and career of the legendary actor • Super 8 version (1973, 19 mins): original cut-down home cinema presentation with unique narration • Original theatrical trailer • Gallery • New and improved English subtitles • Collector's booklet
Get the latest updates, reviews and unmissable series to watch and more!
Thank you for signing up to Whattowatch. You will receive a verification email shortly.
There was a problem. Please refresh the page and try again.