Mickey Rourke bounces back from the ropes with The Wrestler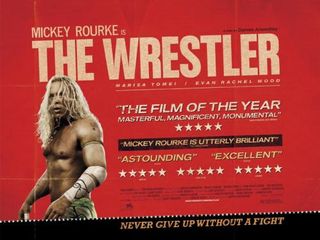 Mickey Rourke was out for the count in Hollywood, but with his gutsy performance as a washed-up wrestler in, yes, The Wrestler he has bounced back from the ropes in triumph.
It's an astonishing comeback for Rourke, who spent so many years in the cinematic wilderness that it's hard to remember what a big star he used to be.
Back in the early 1980s, when he made his mark on screen with a string of electrifying performances, Body Heat, Diner and Rumble Fish turned him into a darling of the critics - he even charmed the notoriously spiky New Yorker critic Pauline Kael, who went into raptures over his performance in 1982's Diner: ''He has a sweet, pure smile that surprises you. He seems to be acting to you, and to no one else.''
A few years later, the blockbuster success of Adrian Lyne's steamy sex romp Nine ½ Weeks turned Rourke into a Hollywood superstar and fan pin-up. Then he threw it all away. He turned down roles in The Untouchables, Platoon and Silence of the Lambs, and, apparently, Bruce Willis's part in Pulp Fiction, appearing instead in such forgettable crud as Wild Orchid and Harley Davidson and the Marlboro Man.
"'If Mickey had died after Angel Heart," Lyne once said, drawing a line at the actor's performance in Alan Parker's 1987 movie, "he would have been remembered as James Dean or Marlon Brando."
Rourke didn't die. He took up professional boxing.
Surprisingly, he didn't disgrace himself in the ring. He'd been a useful fighter in his youth, before taking up acting, and when he turned pro in 1991 he scored six wins, two draws, and no losses in his eight-fight career - until the prospect of brain damage forced him to quit. By then, though, he had wrecked his face. Four lots of reconstructive surgery later, his pretty-boy looks were gone for good.
On top of this, Rourke's marriage (his second) to his Wild Orchid co-star, Carré Otis ended messily in 1998 amid charges (later dropped) of spousal abuse. Ten years later, he is apparently still pining for his ex.
All this lends an almost heartbreaking poignancy to his role in The Wrestler, which resounds with autobiographical echoes. Like him, the character he plays in Darren Aronofsky's movie, Randy "the Ram" Robinson, is someone who was a big star in the 1980s and then fell spectacularly low.
In the 1980s, so we learn from the montage of images that opens the film, the Ram was headlining the bill at Madison Square Gardens. Twenty years later he lives in a trailer, works part time in a supermarket and wrestles at weekends before tiny audiences in high-school gyms and community centres.
Aronofsky captures the shabbiness of Randy's world with a raw documentary accuracy. For the first few minutes, the hand-held camera settles just behind Rourke's shoulder, exposing his ravaged body but initially concealing his features. When the camera swings round to look at his face, anyone who hasn't seen Rourke since his heyday will probably recoil in shock - his battered, lop-sided mug makes him look like a sibling of that weird Manhattan socialite, Jocelyn Wildenstein, whose plastic-surgery addiction led to her being dubbed "the Bride of Wildenstein".
For all the surgery he has undergone, Rourke is still an incredibly expressive actor and the desperate sadness of Randy's life seeps from every pore. Estranged from his daughter (played by Evan Rachel Wood), he has no one in his life, save for Marisa Tomei's ageing stripper, another performer past her best, and despite her fondness for him it's clear she's wary of intimacy.
But Randy still gets a buzz from his appearances in the ring and from the camaraderie of his fellow grapplers, and he seizes on the offer of a 20th anniversary rematch with his greatest adversary from the 80s, "the Ayatollah". In the meantime, he puts himself through a punishing regime of pumping weights and popping painkillers to keep his body in shape, and submits himself to brutal indignities in his wrestling bouts, not least from a staple-gun-wielding opponent (ouch!). Just because professional wrestling is a fake, it doesn't mean the pain isn't real.
Yet the degradation he experiences in the ring is nothing compared with the humiliations he endures on the outside. Obliged to work on the supermarket's deli counter, his dyed-blonde, shaggy mop of hair tamed by a prissy hairnet, he undergoes the embarrassment of a customer, memory dimly flickering into life, recognising him from his heyday.
As far as I know, Rourke has never worked in a supermarket, but he has, apparently, gone through a number of similarly embarrassing encounters with old fans. Indeed, the parallels between Rourke and Randy are so strong that you can imagine lines like "I'm an old broken down piece of meat and I deserve to be all alone," (said by Randy as he tries to patch things up with his daughter) being said by Rourke himself.
It's this blurring of actor and role that makes The Wrestler so moving to watch. Yes, the story of a washed-up star seeking a comeback is old hat, and so is the tale of the broken-down fighter on the Rocky road to redemption, but the battered dignity of Rourke's performance is so touching that by the time he makes his big statement of faith to his fans ("In this life you can lose everything you love, everything that loves you," is how he begins) even the toughest and most cynical of viewers will find their eyes going moist.
A film critic for over 25 years, Jason admits the job can occasionally be glamorous – sitting on a film festival jury in Portugal; hanging out with Baz Luhrmann at the Chateau Marmont; chatting with Sigourney Weaver about The Archers – but he mostly spends his time in darkened rooms watching films. He's also written theatre and opera reviews, two guide books on Rome, and competed in a race for Yachting World, whose great wheeze it was to send a seasick film critic to write about his time on the ocean waves. But Jason is happiest on dry land with a classic screwball comedy or Hitchcock thriller.
Get the latest updates, reviews and unmissable series to watch and more!
Thank you for signing up to Whattowatch. You will receive a verification email shortly.
There was a problem. Please refresh the page and try again.