13 Hours: The Secret Soldiers of Benghazi | Film review - Michael Bay unleashes his full arsenal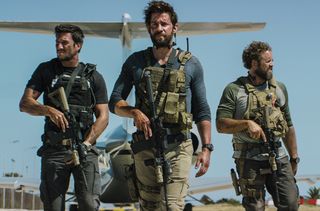 Michael Bay tackles the bitterly contentious true story of the 2012 terrorist attacks on US targets in the Libyan port city Benghazi with typical macho bravado and explosive pyrotechnics in 13 Hours: The Secret Soldiers of Benghazi.
The good guys are a handful of impossibly spunky ex-soldiers, the six private security contractors who stepped into the breach when heavily armed Islamist militants launched assaults on two US compounds in the city, one a diplomatic outpost harbouring the US Ambassador, the other a covert CIA base.
The bad guys don't only comprise the mostly faceless gun-toting Arabs doing the attacking but also the heroes' pussyfooting CIA superiors. These Yale and Harvard brains treat the brawny alpha males under their command with open condescension ('You're the hired help') and their lily-livered indecision puts US lives in jeopardy when the crisis escalates.
Indeed, for many, the film's most rousing moment won't be one in which the men repel their remorseless assailants but the one where one of their number tells the local CIA chief, 'You're not giving orders any more. You're taking them. You're in my world now.'
13 Hours is unapologetically gung ho. Bay buys into the notion of the US as the world's reluctant policeman without a qualm and his view of the military is blatantly sentimental, the flashbacks showing the men's families back home tipping into mawkishness.
Yet when it comes to the combat scenes, and to the nerve-shredding suspense sequences leading up to them, he is stunningly effective. True, in the heat of war it's often hard to tell one of the film's all-American warriors from another; going by such names as 'Rone', 'Tanto' 'Tig' and 'Bub' and played by the likes of John Krasinski, James Badge Dale and Toby Stephens, they mostly sport big muscles and even bigger beards.
We may not be able to tell them apart, but when Bay unleashes his full arsenal of cinematic techniques – the bludgeoning sound design is terrifying by itself – then we certainly feel we've been put in their shoes.
Certificate 15. Runtime 144 mins. Director Michael Bay
http://www.youtube.com/watch?v=4CJBuUwd0Os
Get the latest updates, reviews and unmissable series to watch and more!
Thank you for signing up to Whattowatch. You will receive a verification email shortly.
There was a problem. Please refresh the page and try again.