Clean aces and unforced errors! 140 Years of Ladies' Fashion at Wimbledon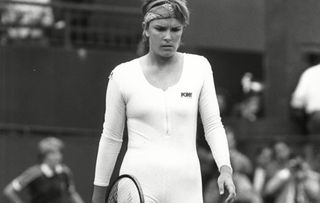 With Wimbledon coming to an end this weekend, we look back at some memorable on-court incidents that DIDN'T involve playing
While the strict all-white dress code has remained in force throughout Wimbledon's 140-year history, it hasn't stopped some competitors playing fast and loose with the rules.
Here are some of the most memorable ones…
1884. At the Ladies Championship final, Maud Watson and her fellow players adopted white clothing to help hide perspiration stains. It's a far cry from what the players are wearing today!
1949. Gertrude Moran, aka Gorgeous Gussie's lace knickers caused a big fuss within the All England Club, which felt she brought 'vulgarity and sin into tennis'.
1979. Linda Siegel's fashionable sleeveless FILA polo evoked the era's hot TV sci-fi Space 1999. But those Mondrian-inspired patches were just not regulation.
1985. Anne White's all-in-one spandex jumpsuit was a one-of-a-kind and so very 1980s – but caused offence to Pam Shriver who felt it was a distraction. Anne was kindly asked not to wear it again.
2002. Anna Kournikova also knew how to make fashion work for her image and her many fans – and the more revealing, the better.
2008. Maria Sharapova's tuxedo-style top tested the formal All-England Club dress code and Wimbledon purists weren't amused.
2008. Serena Williams knows how to look good on the court, but her decision to adopt a trench-coat as her warm-up apparel was a bit of an odd one even for her.
2010. Venus Williams liked to break the rules, whether it be wearing gold underwear or this white layered Tina Turner-inspired creation.
2011. Bethanie Mattek-Sands' warm-up outfit was a bizarre bomber jacket of many tennis balls. Was she channelling her inner Lady Gaga? Of course she was – it was made by one of the superstar's dress designers.
And in 2017? The fashions have become much more understated as top players like Venus sought to minimise the distractions and focus on their game.
The Ladies Singles Final screens on BBC1 & Eurosport 2, Saturday 15 July starting 1pm, with the Men's Singles Final on BBC1 & Eurosport 2, Sunday 16 July at 1.45pm
Get the latest updates, reviews and unmissable series to watch and more!
Thank you for signing up to Whattowatch. You will receive a verification email shortly.
There was a problem. Please refresh the page and try again.