7 burning questions we have after Line of Duty episode 3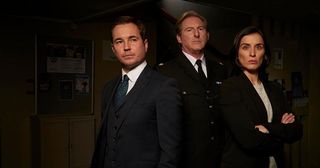 We need to talk about THAT final scene...
O to the M to the G. If you were anything like us, then you were shouting 'NOOOOOOO!!!!' at the TV as balaclava man kicked the hell out of poor DS Arnott and chucked him down those stairs. Leaving that nerve-jangling cliffhanger aside, it was a fantastic episode and it's safe to say, we have some questions that need answering...
Is DS Arnott dead?
Poor old DS Arnott took a bit of a beating before he was chucked down a stairwell and then fell with his head on a concrete step. Suffice to say, that would be enough to kill most people, so is there anyway the AC-12 man could survive?
The show's writer certainly doesn't mind killing people off, but we assumed Tim Ifield was the surprise death of this series. What's more, it would be a big step to write out one of the three original AC-12 team, who've been the core of the show for so long…
Either way it's going to be a long wait until next Sunday!
Is Nick Huntley Balaclava Man?
AC-12 were just getting to grips with the idea that Tim Ifield could have been Balaclava Man, but now we know that can't be the case – or if it is then he isn't the only one wearing a sinister piece of ski apparel. With Michael Farmer in prison, we can safely say he wasn't DS Arnott's assailant either, which leads us to the conclusion that it is Nick Huntley.
Nick Huntley knew DS Arnott was coming up to his office and seemed to make a decision to act as the AC-12 officer was coming up in the lift. It would only take a few seconds to don a balaclava and jacket, while grabbing a baseball bat...
At first glance, DCI Huntley's weedy husband doesn't seem to be an obvious choice as this powerful serial killer, but looks can be deceiving. Maybe Roz Huntley knows her spouse is the killer and is covering for him, or maybe she doesn't? Maybe Nick is putting on an act and pretending to be meek man, when he's actually a hardened murderer?
Who is Jimmy Lakewell?
Could this mysterious lawyer be Balaclava Man? Maybe that's pushing it, but Nick Huntley seems to trust him a lot, seeing as he called him rather than his wife after finding out that AC-12 were investigating him.
Or maybe he didn't want his phone records to show he had spoken to his wife, which would imply he knows a little more about criminal investigations than he's letting on….
Will the overwritten blood sample come back to haunt DCI Huntley?
As soon as DCI Huntley misheard the number of the blood splatter evidence bag in Tim Ifield's flat and wrote KRG-30 rather than KRG-13, we knew that piece of evidence would be central to the series. After all, why would writer Jed Mercurio make a big deal of it unless he wanted to come back to it later?
DS Arnott noticed the anomaly and Kate went to check the sample, but with no CCTV covering the evidence desk, there is no way for AC-12 to prove that DCI Huntley visited to switch the samples. Is there another way of proving the sample was tampered with?
What's more, with DCI Huntley's lapdog DS Jodie Taylor informing her boss that AC-12 are on the case, they can't spring any surprises on her if it comes up in questioning and it could hinder Kate's chances of gaining DCI Huntley's trust…
Yet would she dare bring more attention to the sample by returning to the evidence bay to tamper with it again?
Is Kate making any progress with DCI Huntley?
When DCI Buckells was put in charge of Operation Trapdoor, we feared the jobsworth could reveal DS Fleming's real identity as an undercover AC-12 officer.
Her role in helping a new witness pick out Michael Farmer in an ID parade seemed to get her back in the door – but at what cost? She's set AC-12's investigation back, but will it be worth it?
In the pub that evening DCI Huntley made it clear that despite her good work, she wanted Kate to finish her secondment and head back to East Mids, but after hearing that her new colleague had been sniffing around the evidence bay, Roz changed her mind and offered Kate a place on the team. Has she brushed off the fact that Kate was investigating the tampered sample or is she simply keeping her enemies close to her?
Did Hannah Reznikova kill Tim Ifield?
At first we thought DCI Huntley was simply charging Hannah Reznikova in a bid to escape the blame for his killing herself, but that was before we discovered the cleaner was sleeping with Tim Ifield, probably for money.
Yet DCI Huntley's theory, that Tim Ifield was balaclava man and was planning to kill Hannah, is undermined by the fact that Balaclava Man popped up in the final scene.
Looks like DCI Huntley might have to go back to the drawing board.
Will Jamie Desford be an asset to the team?
With Kate still undercover, AC-12's newest recruit is now Supt Ted Hastings right hand man, but does he have enough experience and poise to take on such an important role so early?
He assumed Maneet was pregnant and could easily have offended a colleague on his first day at work, but got lucky when she told him he was right and she was expecting. He was then overly-familiar in an interview with Tim Ifield's neighbour, could this casual approach could come back to haunt him if he is required to question a more important suspect?
Line of Duty continues next Sunday at 9pm on BBC1
Get the What to Watch Newsletter
The latest updates, reviews and unmissable series to watch and more!
Feature writer for TV Times, What's On TV, TV & Satellite Week and whattowatch.com
Sean has been writing about all things telly for over 10 years and in that time he's been lucky enough to interview stars like Ian McKellen, Tom Hardy and Kate Winslet. His favourite shows are The Great British Bake-Off, People Just Do Nothing and Succession and in his spare time he enjoys drinking tea, doing crosswords and watching football.