6 behind-the-scenes secrets from The Good Karma Hospital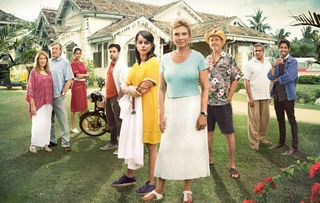 As the drama heats up in ITV's The Good Karma Hospital, we reveal six behind-the-scenes secrets from our visit to the set in Sri Lanka
From monsoon madness to the dreaded 'Delhi Belly', find out what was really happening behind the scenes during filming on ITV's The Good Karma Hospital…
1 Recreating India Although it's set in Kerala, southern India, The Good Karma Hospital was filmed in Sri Lanka, and the hospital itself – a British-colonial building outside the fortified city of Galle – is actually a teacher-training college. The whole student body had to be relocated during filming.
2 Red-hot crew During the 12-week shoot, 190 crew members worked 12-hour days in temperatures that would reach up to 40° C, but director Bill Eagles said: "There was always a smile on set". Most of the crew were recruited locally from nearby Galle or Sri Lanka's largest city Colombo.
"It's hard to imagine a warmer, harder working team," said Bill.
3 Holi fire! Filming the Holi festival scenes in episode three was the toughest undertaking for the production team, who shipped over 70kg of powder in a rainbow of colours from the UK, before firing it through the air with cannons and spraying more than 600 cast and crew, plus two elephants. Due to the heat, at the end of each day's filming the 320 costumes had to be washed and painstakingly repainted with powder for continuity purposes.
4 On yer bike! Playing motorcycle-mad Dr Ruby Walker was a challenge for actress Amrita Acharia considering she doesn't even drive a car! "I broke three bikes and fell off five times!" she told us.
5 Monsoon mayhem When the monsoon rain arrived, the grounds surrounding The Good Karma Hospital were completely flooded and the doctors and nurses' communal area, the Tea Hut, almost floated away!
6 'Delhi Belly' Only actress Amanda Redman escaped the dreaded 'Delhi Belly', but those who chose the 'Western option' for lunch on set rather than the local curry seemed to fall ill… The lesson is, steer clear of burger and chips!
The Good Karma Hospital continues on ITV this Sunday at 9pm
Get the latest updates, reviews and unmissable series to watch and more!
Thank you for signing up to Whattowatch. You will receive a verification email shortly.
There was a problem. Please refresh the page and try again.