A Time to Love and a Time to Die (1958) | Douglas Sirk leaves the melodrama behind for his anti-war epic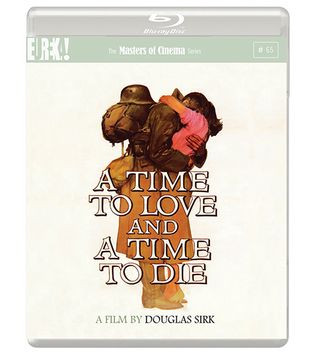 THE STORY During the last days of World War Two, a young German soldier (John Gavin) stationed on the Eastern Front becomes bitterly disillusioned with the war and the Nazi 'cause' when he returns to his village, finding his love destroyed and his parents missing.
THE LOWDOWN Douglas Sirk, best known for his lush 1950s Hollywood melodramas, directs a moving love story within the context of a fiercely anti-war film, based on a novel by All Quiet on the Western Front author Erich Maria Remarque. A far cry from the soapy high camp of All That Heaven Allows or Written on the Wind, Sirk's CinemaScope epic is an explosive and unforgettable experience and is rightly regarded as his masterpiece, counting New Wave director Jean-Luc Godard among its fans.
THE MASTERS OF CINEMA SERIES RELEASE The 1958 war drama is presented here in 1080p in its original 2:35:1 CinemaScope aspect ratio, with English SDH subtitles, optional isolated music and effects track. The extras include, Of Tears and Speed: According to Jean-Luc Godard, a 12-minute, visually annotated recitation of Godard's seminal essay on Sirk's film; a 19-minute video interview with screenwriter Wesley Strick; Imitation of Life [Mirage of Life]: A Portrait of Douglas Sirk, a 49-minute documentary from 1984; trailer and collector's booklet.
The Special Edition Blu-ray DVD release is available from 23 September 2013
Get the What to Watch Newsletter
The latest updates, reviews and unmissable series to watch and more!