Alan Carr: 'Chatty Man hasn't got the oomph of Graham Norton, but we'll get there!'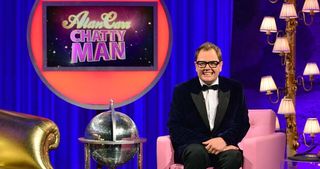 (Image credit: Ellis)
Our favourite chatty man Alan Carr tells TV Times magazine about grilling A-listers, competing with Graham Norton and coping with Jedward…
The celebrities you have on Chatty Man (Channel 4, Fridays) always seem relaxed. Do you think that has anything to do with the fact you used to work in a call centre?
"Cold calling was my training to be a chat show host, because you're talking to every member of society and you have to sound like you care. That came in handy, saying 'Oh hello, I see you're overdrawn and the bank's going to repossess your house!'"
Do you think that your drinks globe plays a role, too?
"I try to make sure the guests enjoy themselves – half the time I just fill their drinks up and break them down with bad wine! It always tickles me when people who are renowned for having a drink problem say, 'Oh just water for me,' they always over-egg the pudding. I'm thinking, 'I can see you're hungover, just have a glass of Lambrini!'"
Who do you think makes the best guests?
"I find comedians try to be funny because it's in their bones. It's a bit of a shame because these actors and actresses can be boring and monosyllabic, but no one says, 'Oh I'm not going to watch that movie then'. But if a comedian's not funny for 10 minutes then it affects their work – there are double standards."
Is there any rivalry between yourself and other chat show hosts like Graham Norton?
"When he had Madonna on I texted him saying I was well jel! It's interesting though, because I went to a wedding in Mykonos and Graham was there as well. We had a good old chat about our shows and how we both get these long lists of things from publicists about subjects you can't talk about. It was nice to speak with someone who shares the same frustrations."
Is it difficult negotiating with stars and their publicists about what they can discuss on air?
"We're not one of those shows that tries to dig into people's private lives or put guests on the spot, but it's just hard when all they want to talk about is their latest film. There's a lot of to-ing and fro-ing with the publicists. The interviewees have to give me something – if they don't want to talk about their new relationship tell me about something else. I can't chat about a film for half an hour, especially if it's a turkey!"
How do you feel when things go wrong? We remember one particular time when Jedward poured hair gel over Gavin & Stacey star Ruth Jones…
"Half of me thought, 'Oh no!' but then the other half thought, 'Oh that's good telly!' We did buy Ruth a new dress before she sued Chatty Man though!"
What do you think is so unique about the style of the show?
"A lot of the time Chatty Man seems quite haphazard and some people think that maybe I've won a competition to host it. Guests just go 'Oh bless' and then I pounce! I'm quite predatory, I just wait to find a little chink in their armour and then I go for it!"
And what about your interview style?
"Interviewing is a skill and I know Piers Morgan and Parkinson say you shouldn't ask questions that everyone wants to hear, but I think the nature of the beast has changed. We're very celebrity obsessed and people don't want all this worthy rubbish, they want the entertainment as well. Fair enough if Piers is on CNN talking to Kofi Annan he's not going to ask if he's a boxers or a briefs kind of man, but mine is a C4 light entertainment show. It's Friday night, let your hair down!"
Who would you love to have on the show?
"We've only been on screen for four years and we're not doing badly. The only thing is we don't get the Hollywood people I'd really like, such as Robert De Niro and Harrison Ford. Graham's guests are just off the scale, they're absolutely amazing every week, but he's been hosting for 15 years. We'll get there – in another few years I'd love to be friends with Cher or have Tom Hanks on the show, but I haven't got that oomph yet. I do have weird taste, but I'd like to speak to [Cambridge classics professor] Mary Beard. She'd be a bit of a curveball!"
Do you have any regrets so far?
"I interviewed Whoopi Goldberg on Chatty Man, she took my email address and there was talk about us doing a show together, but I was so busy that I didn't have two days to fly to America to see her. That's one of my big regrets. Lady Gaga invited me to hang out with her when she was performing in London, which was really sweet, but again I was working. Obviously if I'd actually turned up she would have forgotten who I was and I'd have been Tasered by her security guards!"
Is there any room for you to have a breather soon?
"I'm doing a full-on stand-up tour next year, and another TV show is being commissioned that's quite celebrity based and would have me travelling around the world. I've got such a lovely job and I've just got to keep going because there'll come a time when I'll be on Celebrity Coach Trip and I'll be kicking myself. Watch out Brendan, I'm coming for you!"
Get the latest updates, reviews and unmissable series to watch and more!
Thank you for signing up to Whattowatch. You will receive a verification email shortly.
There was a problem. Please refresh the page and try again.