Alison Steadman turns UFO spotter in Midsomer Murders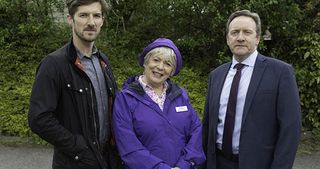 (Image credit: Neil Genower)
Alison Steadman has enjoyed a screen and stage career spanning five decades but, until now, there has been a glaring omission on her impressive CV: a guest role in Midsomer Murders (ITV, Wednesday).  
The genteel crime drama, starring Neil Dudgeon and Gwilym Lee as DCI John Barnaby and sidekick DS Charlie Nelson, returned for an 18th series last week. And in this week's episode, The Incident At Cooper Hill, Alison plays flamboyant UFO tour guide Abigail Tonev.
Last May, TV Times joined Alison, 69, as she filmed scenes on location at beautiful Langley Park, Buckinghamshire, to find out more…  
So, Alison, what appealed about this role?
"It sounded fun! They told me it was about UFOs and that Abigail was larger-than-life and very jolly, and then suddenly all these awful things happen to her. I've got a good costume too – it's a purple jacket with a UFO logo on the back saying 'Alien Tours.'"
In this story, Abigail's business suddenly gets busier as there are a number of sightings of unexplained flying objects in Midsomer…
"Yes, Abigail does four tours a day. I can't believe anybody goes out UFO-spotting, but they do. I'm not a believer. I would like to believe though."
We've been sworn to secrecy about what you're filming in the woodland today, as it's the climax to the episode. But we can reveal that real gunshots have been fired...  
"I've actually got earplugs in for the gunshots because they are quite loud and I have damaged nerves in one of my ears after someone fired a rifle right next to my ear in a confined space during a play I did when I was in my 20s. The level of pain when it happened was just horrible. So I don't want any more damage."
That sounds awful. Do you have pain in your ear the whole time?
"No, I just have humming and buzzing sometimes, and if I'm in a situation where there's a very loud noise, it makes my ear go fuzzy. The doctor explained that if the nerves in your ear are damaged at a certain level, then if I hear the same level of noise, it affects it. So, for example, if I'm in an audience at a theatre and everybody's applauding, I have to cover my ear. But thank God my hearing is not affected."
As well as running through woodland, another stunt involved you being dragged down 40 steep steps into a nuclear bunker... 
"It worried me slightly, but, in fact, it wasn't too bad because there was a metal rail on the wall that I could hold onto, so I knew I wasn't going to fall. I was also worried, as I can't stand being in claustrophobic tunnels."
Do you suffer from claustrophobia, then?
"Yeah, I went down a tin mine once and that freaked me out. But this actually wasn't so bad because the corridors were reasonably wide with a proper ceiling height. Plus everyone on Midsomer is so safety-conscious; they were all wearing lights on their heads so that they could make sure you were OK."
And, finally, as we saw in your ITV nature documentary on Shetland last year, you've loved bird watching since you were a child. Have you spotted any unusual species while filming at Langley Park today?
"Unfortunately I've left my binoculars back at our base camp! But it's ideal here, I've heard so many green woodpeckers, you don't see those very often. I see the greater spotted woodpecker all the time in my garden on my feeder. But green woodpeckers are difficult to spot because they feed on the ground and fly at such speed. They are lovely birds."
Get the latest updates, reviews and unmissable series to watch and more!
Thank you for signing up to Whattowatch. You will receive a verification email shortly.
There was a problem. Please refresh the page and try again.