Amanda Henderson: 'We've had TWO rehearsals!'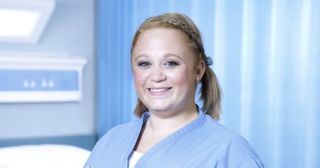 (Image credit: BBC/Richard Ansett)
Casualty's Amanda Henderson reveals rehearsals for Let's Sing and Dance for Comic Relief haven't been going to plan…
Casualty stars Amanda Henderson and Tony Marshall join forces with Holby City's Chizzy Akudolu this Saturday to perform LIVE in Let's Sing and Dance for Comic Relief.
We arranged a check up with Casualty's Amanda to take her pulse before the live charity event this Saturday at 6.45pm on BBC1
Amanda, who plays nurse Robyn Miller in Casualty, explained, one way or another, she hopes viewers will be in stitches when they perform Uptown Funk by Mark Ronson featuring Bruno Mars…
Are you prepared for Saturday night's live performance of Uptown Funk with Tony and Chizzy? "We've still got to fit in time for rehearsals! We've had a grand total of two rehearsals with all three of us together. So it's going to be interesting…"
When are you going to fit in this rehearsal time? "We've most of Friday and all day Saturday together so it shouldn't be too bad. I keep popping into the Casualty set to see Tony Marshall and ask him to go through it again. I think he's getting a bit sick of me now! But I want to keep going through it because I'm really terrified."
Why so few rehearsals? "Chizzy's in London, where Holby City is filmed, and me and Tony are in Cardiff filming Casualty. We've all been so crazy busy we've struggled to get time together!"
Lee Mead sings your praises as a vocalist, but how are you when it comes to dancing? "I trained in musical theatre so, technically, I should be able to dance – but I haven't danced in about 10 years. Plus, we're performing Bruno Mars' Uptown Funk and it's beyond my style. I'm musical theatre through and through. Give me jazz hands any day!"
How about the singing side of the act? "The same goes for the vocals. When it comes musical theatre I'm fine. I'm not Bruno Mars in the slightest! So for me to do Uptown Funk… its so out of my comfort zone it's unreal. But its good fun, so far. Chizzy Akudolu is the backbone of the song and she's absolutely brilliant."
What are your hopes and fears for Saturday's performance? "I don't think this is any of our fortes but it's for Comic Relief and hopefully we'll bring the comedy to it! I'd hope we'll absolutely nail it and have no problems. But if we don't and it all goes wrong it will be funnier! Whether people will laugh with us or at us, is another thing. But as long as they laugh that's all that matters. Please everyone vote for us!"
Also performing on Let's Sing at Dance for Comic Relief this Saturday are The Chasers, EastEnders' Danny-Boy Hatchard, and reality TV stars James and Ola Jordan. The show gets underway on BBC1 at 6.45pm. To donate go to rednoseday.com
Get the latest updates, reviews and unmissable series to watch and more!
Thank you for signing up to Whattowatch. You will receive a verification email shortly.
There was a problem. Please refresh the page and try again.