Amazon's thriller series The Man in the High Castle imagines a world where the Allies lost World War Two (VIDEO)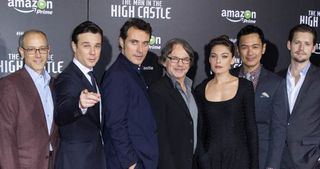 (Image credit: Everett/REX Shutterstock)
Can you imagine a world where the Allies lost World War Two and the Germans and Japanese had won? That's the frightening concept at the heart of Amazon Prime's new thriller series The Man in the High Castle, created by Frank Spotnitz, writer/producer of The X-Files.
Frank explained the scenario to What's on TV: "So the series is set in 1962 and the Allies have lost World War Two, so the United States, the eastern half is occupied by the Nazis, the west coast by the Imperial Japanese and there's what's called a neutral zone running down the Rocky Mountains between the two... And the series starts when one of the characters, Juliana (Alexa Davolos), is approached by her sister and hands her a bag and says 'Take this!' and then gets shot."
He continued: "She opens the bag and there's a film showing us winning the war... How could that be?"
That intriguing, scary premise was also the subject of celebrated novelist Phillip K Dick's 1962 novel of the same name, which the series is based on. It stars British actors Rupert Evans as an earnest part-Jewish character, Frank Frink, and Rufus Sewell as a Nazi officer, John Smith.
There is a Cold War escalating in the series, except it's Germany versus Japan rather than the United States versus the Soviet Union.
The mystery at the heart of the thrilling series is who exactly is The Man in the High Castle and could he be a saviour for the occupied people.
Frank explained: "The films are so good that it seems impossible that they could be fakes and what we discover is the films are bound for a man who is only known as the Mman in the High Castle, so Juliana goes after [him], which starts the narrative..."
All 10 episodes of The Man in the High Castle can be streamed on Amazon Prime from Friday, November 20.
Watch the interview with star Rupert Evans and Frank Spotnitz, above. "]
Watch the pilot episode here.
Get the latest updates, reviews and unmissable series to watch and more!
Thank you for signing up to Whattowatch. You will receive a verification email shortly.
There was a problem. Please refresh the page and try again.