Archie Panjabi on why filming Departure left her terrified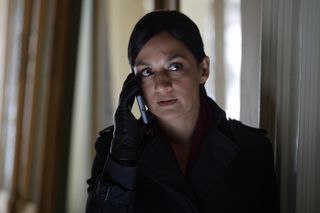 (Image credit: Universal)
Archie Panjabi on her new Universal thriller Departure and why filming it made her nervous
The mystery surrounding a passenger plane that goes missing over the Atlantic is at the heart of Universal's conspiracy thriller Departure. The Good Wife and Next of Kin star Archie Panjabi stars as accident investigator Kendra Malley who faces a race against time to locate Flight 716 and the 256 people on board and work out whether terrorism, pilot error or another chilling reason is to blame for the incident.
Archie Panjabi reveals all to TV & Satellite Week about her new drama Departure…
TV & Satellite Week: What appealed to you about Departure?
Archie Panjabi: "When I read the first script, I couldn't put it down, it kept me on the edge of my seat. As soon as you have one culprit, new evidence comes up and you've got another. But Kendra keeps an open mind. She's determined to get to the truth. Few women are accident experts so she's a tough cookie. But she has her fair share of powerful people wanting her to fail and her life is put at risk…"
MORE: Rob James-Collier on joining Ackley Bridge: 'Martin doesn't care about rules'
TVSW: Did you do any research?
AP: "I spoke to a real aviation investigator who summed things up brilliantly about how they look through every piece of evidence vigorously and without prejudice so they never come to conclusions until they are certain. But I was surprised by how complex it is and how affected these people become. I've great sympathy because they take a lot of it home."
TVSW: Were there any scary moments during filming?
AP: "We shot a scene in an aircraft where Kendra recreates what she thinks happened. But the plane jolted and made a noise and it progressively became worse. It was night and the lights were off and it terrified me and for a second I thought about 9/11 and the people on that flight."
TVSW: The Sound of Music's Christopher Plummer plays Kendra's boss and mentor Howard Lawson, what was it like working with him?
AP: "He's a phenomenal actor and has incredible screen presence. Kendra and Howard have an interesting chemistry. Because Christopher's witty, charming and intelligent, it was easy to strike up a bond and we improvised a lot. Sometimes you shouldn't meet your heroes but meeting Christopher exceeded my expectations."
Departure airs on Universal on Wednesday 10 July at 9pm
Get the latest updates, reviews and unmissable series to watch and more!
Thank you for signing up to Whattowatch. You will receive a verification email shortly.
There was a problem. Please refresh the page and try again.