BAFTA host Graham Norton: 'A glass of wine takes the edge off!'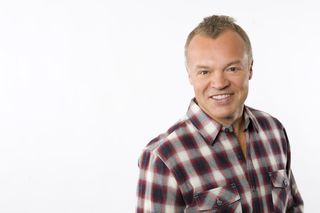 (Image credit: BBC/Andrew Hayes-Watkins)
Graham Norton will be hosting the BAFTA TV Awards at London's theatre Royal on Sunday on BBC1, so we caught up with him to talk about his favourite shows of the year…
You have been nominated in the Best Entertainment Performance Award, is it awkward being nominated when you're hosting the ceremony?

" Look, it's just a thing. It's not that big a deal. If you win – and trust me it's much better than not winning – it's amazing. But equally if you don't win I don't have time to dwell on it as I'm busy, and also my wine is just there as well! It's a much better way to lose and also you've been paid to be there. You haven't put a suit on for nothing! "
Do you have any rituals before the show starts?

" Not really. I think when you start out you do because you're more worried, but actually those things become a tyranny. I brush my teeth and I normally have a glass of wine as it takes the edge off – and also I like wine! "
What have you been enjoying on TV this year?

" There's so much good drama and I still love Call The Midwife. I thought Happy Valley with Sarah Lancashire was really stunning and that deserves to be up for awards, but I also like comfort telly. I couldn't be happier watching a two-hour episode of Vera at the moment! She's so good and it's perfect. It's Brenda Blethyn and lovely scenery, what more could you want?'
As a TV viewer who would you like to see win the Audience Award, the only category voted for by the public?

"I am a TV viewer, but people who vote – they're different aren't they? I'd imagine Game of Thrones or Sherlock would win because fans of those shows are the ones who actually bother to vote."
What would you like to see win the award?
"I think EastEnders has been great recently. The whole live week for the 30th anniversary and the lead up to it was amazing. I was doing an EastEnders special on the Graham Norton Show so I was watching a bit more than I usually would and I really got into it. I think they're really on a roll at the moment!"
What did you think when Bobby was revealed as Lucy's killer?

"You can see why it had to be the little boy. What's good about the storyline is that we can put it on a backburner and start new storylines, but it's still there. If the writers are out of ideas in a few years someone might say 'How old is that child now? Could he kill again? Could he now be arrested?' On the night people may have felt a bit let down, but from EastEnders' point of view I thought it was clever."
Mrs Brown's Boys… are you a fan?

" Yes I am actually. Look lots of people don't like it, but you can't say it's bad because it's excellent at what it does. You just may not like what it does. That's fine, don't like it and don't watch it, but don't mistake your dislike for a lack of quality. It's doing its job brilliantly. "
Have they ever asked you to appear in an episode? You'd be great in it!

"No, they have not. And I no I wouldn't!"
You've had some great guests on The Graham Norton Show this year, are there any big names coming up we can look forward to?

"There are a few. There's one I think we're going to get this series, but I'm not going to jinx it by saying – but we thought we'd never get them!"
Who is it?

"As far as I know they've never done a UK talk show and they're a big Hollywood A-Lister. Those are your clues!"
Get the latest updates, reviews and unmissable series to watch and more!
Thank you for signing up to Whattowatch. You will receive a verification email shortly.
There was a problem. Please refresh the page and try again.