Benidorm's Tony Maudsley: 'Kenneth gets a Russian boyfriend!' (VIDEO)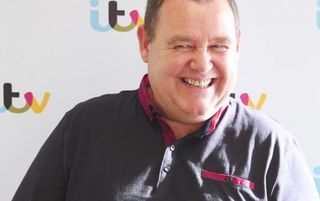 Benidorm's Tony Maudsley joined us for a video chat about Kenneth's antics and love life in the new series of Benidorm....
With the new series of Benidorm about to start on ITV tonight, What's On TV caught up with Tony Maudsley for an exclusive video chat. Tony told us with relish what's happening with Kenneth this time and we're delighted to hear the camp crimper may have found love!
"It's all chaos, chaos, more chaos for Kenneth, but he's got love in his life in this series," says Tony. "So for the first time ever we're going to see Kenneth's love interest on screen. He talks about his love life a lot, he brags about his love life a lot, most of which I suspect ends up in the bottom of a skip with a dirty kebab and a dirty man, but this time we're actually going to meet his love interest which is going to be fun.
"He's bigger than Kenneth. So think 6ft 9in with size 17 feet and you know what they say about big feet! He's Russian. I said to them you're never going to find an actor that much bigger than me, but they did in Tenerife of all places they found this guy who's literally 6ft 9 with size 17 feet. They couldn't get shoes for him.
"They had to get shoes shipped in from the USA. It's the first time in eight years on the show that I've been able to look up at someone when I'm acting with them. Normally I'm looking down on people and it was great, it was really good fun and he's around for a couple of episodes."
The Russian boyfriend can't compete with Kenneth in the fashion stakes, however... "No I don't think anyone can compete with Kenneth in the fashion stakes can they?" laughs Tony.
"Kenneth's got a fashion all of his own. He's got some lovely shorts. Do you know I wore the original ones out. I wore the original ones for so long and the place where we bought them stopped making them and I was like what are we going to do?
"These have got holes, they're threadbare. So they've now found somebody who makes the hotpants which means we can elaborate a bit more, we get pink sparkles, blue sparkles, hands on bums, so they're a lot more elaborate than they used to be."
The first episode sees a big wedding between Joyce and Monty, and Kenneth is a big part of the celebrations. "Yeah it's a brilliant opening episode. He hasn't got much of a role at the wedding, he's basically there for the free food isn't he, but yeah… for Kenneth it was just a good excuse for a wedding outfit so he's got a fabulous wedding outfit, very unforgiving as usual. But I think he's basically there for the free food though and a day off work but he has a good time.
"He loves things going wrong. He's a bit of a mixer isn't he? So he likes to stir up a bit of trouble, he gets a bit of glee out of that. But he does end up saving the day. He turns into a bit of a hero at the end of episode one and you see him swimming for the first time."
Singing legend Tony Hadley is in this episode as well, which Benidorm's Tony enjoyed... "Do you know what, I grew up in the 1980s when Spandau Ballet were at their peak so when they said Tony Hadley is coming, all of us who are 40-something we're like 'yes' and do you know what he didn't disappoint, he had such good time, he was so happy to be there and he sang everything we wanted to sing.
Tony goes on to talk about other guest stars from yesteryear who rock up this series...
"Funnily enough, the Chuckle Brothers made their Benidorm debut this year but I'd recently done panto with them in Nottingham, Jack and the Beanstalk, and Derren Litten our writer had come up to Nottingham, loved them in the panto so much and he met them in my dressing room afterwards.
"I said to myself they're going to be in the next series of Benidorm and lo and behold I rocked up at work one day and there's the Chuckle Brothers there doing a little cameo in the show and they were very funny. Barry Chuckle in a flapper frock with his bow legs, is something I can never unsee!"
Benidorm begins on ITV tonight at 9pm
Get the latest updates, reviews and unmissable series to watch and more!
Thank you for signing up to Whattowatch. You will receive a verification email shortly.
There was a problem. Please refresh the page and try again.