Blackadder rides again as Richard Curtis confirms Rowan Atkinson-less special
Tony Robinson is front and center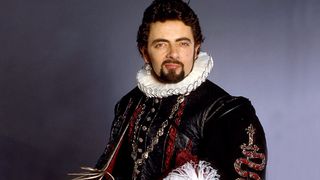 (Image credit: BBC)
Classic British comedy show Blackadder is coming back, but it's going to be missing one key element.
In an interview on the BBC Radio 2 Breakfast Show with Gary Davies, series creator Richard Curtis spilled the beans on upcoming Blackadder shows, with a new sketch showing as part of Comic Relief 2023 on March 17.
Details are light, but Curtis admitted "For the first time in 20 years, Baldrick [a main character played by Tony Robinson] is going to be giving some kind of performance [...] there's going to be a marvelous, turnip-based thing with Tony Robinson now back in action."
Blackadder follows the scheming Lord Edmund Blackadder (Rowan Atkinson) and his trusty but stupid companion Baldrick in various historical settings. It ran for four series, though after Blackadder Goes Forth in 1989, specials continued the legacy of the character up until Blackadder: Back & Forth in 2000.
Plenty of legendary British comedy actors played recurring roles including Stephen Fry, Hugh Laurie, Tim McInnery, Miranda Richardson, Rik Mayall, Miriam Margoyles and Robbie Coltrane.
Other than a charity stage show in 2012, neither Atkinson nor Robinson have returned to play the characters since (a 2020 special saw Stephen Fry return as one of his characters, but none of the main cast).
Clearly, that's about to change... for Robinson. However, Curtis confirmed that Atkinson will not be returning to the role of Blackadder: "Rowan's far too serious to do any of that!".
So while the upcoming Comic Relief sketch will be Blackadder in name, it presumably won't star Edmund Blackadder himself — that's despite Atkinson saying he'd be open to returning to the role in a 2021 interview.
Despite having a long comedy heritage, Rowan Atkinson has branched into more dramatic roles of late, with TV show Maigret and upcoming fantasy musical Wonka showing a move into non-comedy fare.
Without Atkinson, further Blackadder projects may not feel quite the same — but if it's for charity, we'll give it a watch anyway.
Get the What to Watch Newsletter
The latest updates, reviews and unmissable series to watch and more!
Streaming and Ecommerce Writer
Tom is the streaming and ecommerce writer at What to Watch, covering streaming services in the US and UK. His goal is to help you navigate the busy and confusing online video market, to help you find the TV, movies and sports that you're looking for without having to spend too much money.