Rachael Stirling: I haven't seen anything else on the telly that is just about women using their brains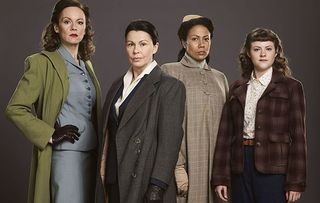 (Image credit: ITV)
Julie Graham and Rachael Stirling reveal how their short-lived series The Bletchley Circle rose from the dead and relocated to San Francisco.
Good news for fans of the code-breaking drama, The Bletchley Circle – the show may have been cancelled in 2014 after just two short series, but four years later it's back with a trans-Atlantic twist.
As the spin-off begins, we see two of the four ladies who helped beat the Nazis at Bletchley Park, Jean and Millie (Julie Graham and Rachael Stirling), as they struggle to find any fulfillment from their post-war lives.
Jean is working as a librarian, and Millie is tutoring, but when they read about a murder in San Francisco it reminds them of a very similar case from their Bletchley days, inspiring them to take the trip of a lifetime…
Julie Graham, 52 and Rachael Stirling, 41, reveal what's in store in The Bletchley Circle: San Francisco
How did you feel when you heard the show was coming back?
Rachael Stirling: "Very surprised but happily so! The more I looked into the idea of Jean and Millie going on this adventure, it seemed really beguiling. It was rather surreal and wonderful to find ourselves back in these costumes and characters, but a real pleasure."
Julie Graham: "Usually once the show's gone it's gone, it can be disappointing but you have to let it go. But the story really made sense for those characters because Millie is a maverick and a free sprit and Jean is a spinster with no life! I just love playing her Jean, she's such a wonderful character."
http://www.youtube.com/watch?v=Q_f78LAWPfY
Where do we find Millie and Jean?
RS: "Millie's very restless in London, dissatisfied with the situation for women post-war, with not being allowed to use her brain or to say, 'But hang on a second, I helped to win the war, I'm as clever as any of these male counterparts!' She's disillusioned and she doesn't want to marry or have kids, but she's stuck tutoring appalling spoiled brats, living within the parameters you were rammed into as a woman in the 1950s. The case that takes them to San Francisco is a lifeline for her and what she most wants in the world is to drag Jean along with her!"
JG: "Jean's working in a library and takes some persuading to go to San Francisco, but there's a catalyst for change. She goes for a job interview in the Foreign Service in London where she's interviewed by this boy who looks about 12 years old. He's very patronising, and basically won't give her the job because she's a woman and too old in his eyes. It makes her think, 'Why not?' and she gets dragged along on Millie's coat tails."
How has the new setting refreshed the show?
RS: "The whole thing is a bit shinier and has more chutzpah to it than the original series. There's a wonderful jazz underworld that we frequent, which is heaven. Beforehand we had four white Miss Marples in 1950s London, but now there's exciting new characters and storylines. We go into the gay underworld, towards the Cold War and communism, we touch on McCarthyism… we're introduced to a much broader spectrum of society. I'm really proud of the results."
JG: "It did feel very familiar stepping into Jean's double tweed but the show has a new fresh feeling, we go from drab post war London, to sunny and vibrant San Francisco, it's a brave new world and the themes are much more modern."
RS: "It's so unbelievably zeitgeist-y. It's not a show that was cobbled together under a 'Me Too' hashtag, it existed already and now it's been reinvented in the most timely of fashions. I haven't seen anything else on the telly that is just about women using their brains, there's always other stuff at play. Bletchley is about really bright women collaborating and the joy of the intellectual stimulation they get from each other."
Is it fun to be reunited and were you disappointed it was just the two of you?
JG: "It would have been lovely to get the gang back together, especially Anna (Maxwell Martin) because we're such good friends off camera – she was disappointed she didn't get to hang out with us! But there are two very strong female leads we meet in San Francisco, Hailey and Iris, so it didn't make sense to be a gang of six."
RS: "I met Jules on my very first job in the theatre, we shared a dressing room, so I've known her all my life. Bletchley saw me going back to work after I'd just had a baby, who turned one while we were out there. The days were long so to have the support of a long-term beloved friend while working very hard was wonderful."
But you didn't get to film in San Francisco?
JG: "It was all shot in Vancouver, which doubles up for San Francisco a lot in various shows, because it has the hills and old fashioned houses, and we did some green screen. It's a very beautiful place to film."
RS: "We called it San Vancouver! Canada's a beautiful country though, we went past snow capped mountains every day on the way to work."
Get the What to Watch Newsletter
The latest updates, reviews and unmissable series to watch and more!