Blind Date's new host Paul O'Grady: "I still miss Cilla terribly"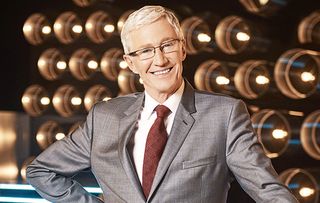 The new series of Blind Date starts tonight with Paul O'Grady replacing dear friend Cilla Black as the host. We spoke to Paul about the show.
It's difficult to imagine iconic Saturday night entertainment hit Blind Date without its effervescent host, the late Cilla Black. Fronting the series for nearly twenty years, she – and her friend in the voiceover booth 'our Graham' – became a staple part of most people's weekends.
So perhaps the only person who could fill in for her on Channel 5's revival is Cilla's best friend, Paul O' Grady, who made sure he had permission from the star's family before he agreed to the job. Although popular TV presenter Paul had reservations right up to the point he stepped on stage and admits listening to the theme music at the first recording made him feel 'very odd', he's now proud to be looking after her legacy.
Here Paul, 61, talks memories of the original series, remembering Cilla and why he had to wrestle the job off his alter-ego Lily Savage…
How does it feel to be stepping into Cilla's shoes? "It was odd to start with – I found myself morphing into her and telling the audience we'd have "A lorra, lorra fun!" I expected Cilla to appear and say "What the hell are you doing?!" Once I'd settled down it did feel right. I turned them down at first, but Cilla's son, Robert said I was the only person she would have wanted to host it, and she'd have been delighted to see me do it. Cilla was a remarkable lady, like family to me and I miss her terribly because we spoke every day."
How similar is the series to the original? "It's basically the same – we still have the wall that comes out, which fascinated me and it's still a gentle show. The prizes are worse than Blankety Blank though – the winning couples go to Southend or to play crazy golf. The secret was always that the show was funny and Cilla was very funny herself. I don't think a lot of people got that, so I'm making sure the humour is there."
You were quite picky about the contestants weren't you? "Yes I didn't want it to go all high tech and half naked, with the TOWIE lot having it off under the sheets with a night cam. I wanted people who had never been on the telly before and so our contestants are amazing – some of them speak nine languages and play the oboe. I feel quite protective of them. When Cilla got the job, her husband Bobby said to the producers, "You need somebody sexless for this job…. like my wife!" But it's true because otherwise it can be a bit creepy."
Are you pleased to welcome LGBTQ singletons to the show? "Yes I think it's great and I did tell Channel 5 it was important to have a bit of diversity on the series, otherwise it's boring – everyone has moved on. I want the over 80s on too, you can have such a laugh with old people because they've got no filter. There's a dog special in the works too, where people come on with their pets. I'll bring Olga!"
Were you ever tempted to host the show as your alter-ego Lily Savage, as you did for Blankety Blank in the Nineties? "It would be great for Lily but it would be a different show if she had hosted it - a lot racier. She'd be copping off with the contestants and telling them not to bother with the other girls. It would be irresistible, I wouldn't be able to stop myself!"
Cilla was always looking for an excuse to buy a hat – are you hoping this year's couples will get hitched? "No I hate weddings – if any of them get married I'm not going! I can't bear them, they're four days long and they're miles away, you have to pay for a hotel, pose for photos and sit with millions of kids and drunks. I prefer a funeral – you're in and out, no presents or photos and you can have a good cry before all the old family grudges come out."
How do you feel about the show moving to Channel 5? "I think it's a great idea, I'll work for any channel, I'm not snobby at all. People have been surprised, but I remember when BBC2 first came out and my mother was sitting there saying, "Bloody opera – that's a waste of money. Why don't they show a film?!"
What are your memories of watching Blind Date the first time round? "I didn't have a tumble dryer, so I used to iron my jeans dry while watching the show before I went out on a Saturday night. I remember when Cilla quit live on air: I was up in Manchester doing panto and she told me to watch the show, which she had never said before. They were messing around with the format and she didn't approve so she defiantly announced it was the last show. The producer nearly died, but Cilla wasn't one to cross, she was a tough lady. She'd had enough at that point and, as she used to say, work was interfering with her social life. I told her, "You're 65, you're supposed to be sat at home counting your pills!"
You're also hosting Paul O' Grady's Movie Night for Channel 4 this week aren't you? "Yes, it was a lovely job – they showed me clips of films and I sat there commenting on them! But I had an afternoon of weepies and of course I'd seen none of them because I don't like romantic chick flicks. They were shocked I hadn't seen Sleepless in Seattle and as for Marley and Me, I'm an animal lover but why couldn't they put the dog down after 10 minutes so we could all leave? That film was like eating warm Turkish delight, it made me feel sick. I loved watching the Disney movies though!" Watch Blind Date, Saturday, June 17, Channel 5, 7pm and see also The Paul O'Grady Story on Friday, June 23, Channel 5, 9pm
Get the What to Watch Newsletter
The latest updates, reviews and unmissable series to watch and more!