10 Years Ago in the Soaps: Week Beginning November 18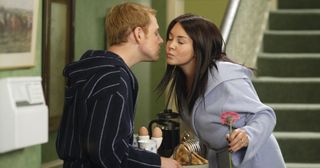 (Image credit: BBC)
Remind yourself of all the soap drama that was happening in EastEnders, Coronation Street, Emmerdale and Hollyoaks 10 years ago this week!
10 Years Ago in the Soaps… The honeymoon was over for Bradley (Charlie Clements) and Stacey Branning (Lacey Turner) in EastEnders, Sarah Grimshaw (Tina O'Brien) suffered the green-eyed monster in Corrie, Carl King (Tom Lister) turned hero in Emmerdale and Tony Hutchinson (Nick Pickard) got shocking news in Hollyoaks…
EastEnders
Newlyweds Bradley and Stacey Branning were just back from honeymoon and Bradley was doing his best to keep the romance going, treating his bride to breakfast in bed. It wasn't easy as he got home to the news he'd been sacked from his job and they also discovered they'd brought back the wrong suitcase - the case containing Lauren's video camera with that tell-tale wedding film of Stacey getting upclose with Bradley's dad Max was missing. Shame it didn't stay that way!
Kevin Wicks (Phil Daniels) was horrified when he turned up at the car lot to find the place had been trashed with graffiti scrawled over the walls and car windows smashed. Pat Evans (Pam St Clements) suggested someone might be sending him a message and she was right. Kevin had turned down an offer from Phil Mitchell (Steve McFadden) to sell some dodgy motors and split the profits and Phil wasn't a man to take 'no' for an answer. Kevin was forced to accept his deal - but he had no clue what a dangerous mess he was getting into.
Kevin wasn't the only one feeling the force of Phil Mitchell. Jase Dyer (Stephen Lord) realised just how tough a man he was dealing with when he tried to tell Phil he wasn't interested in doing any more jobs for him. Phil slammed Jase up against a wall, set him straight on who was the boss, and set him to work re-painting the car lot. Jase wondered if he would ever escape Phil's clutches.
Coronation Street
Sarah and Jason Grimshaw's marriage had no chance with Sarah's evil brother David Platt (Jack P Shepherd) stirring it to wreck their happiness. When Jason (Ryan Thomas) helped out Becky (Katherine Kelly) at the cafe then went for a drink with her - instead of carrying out Sarah's long list of chores - David made sure Sarah knew about it. Sarah struggled to trust Jason and not be the jealous nagging wife, but with Jason clearly enjoying Becky's company it wasn't easy. Would Jason really cheat on her so soon after their marriage?
Fiz Brown (Jennie McAlpine) had no thoughts of hiding her jealousy when she caught John Stape (Graeme Hawley) kissing Sally Webster (Sally Dynevor) - or so she thought. In fact, Sally had something in her eye and John had just leaned forward to take a look to see if he could help. But Fiz didn't wait to find out the facts - she just gave Sally a heart-felt slap across her face. Of course, it was Sally's daughter Rosie that John was cheating with, but that thought hadn't even crossed Fiz's suspicious mind. Luckily…
Emmerdale
Lexi Nicholls (Sally Oliver) was shocked when Lee, a face from her past, turned up in the village. Lexi insisted she had put her criminal past behind her but Lee demanded £10k to get out of her life for good. Lexi went to her mum Carrie for the cash and drove off in one of the Kings goods trucks to deliver it, unwittingly kidnapping Carl King who was inside checking stock! When they got to the handover, Lexi explained the situation to Carl who leapt to her defence when Lee turned up. Things got nasty but Carl won the fight, tossed Lee his £3,000 watch and warned him off for good. What a hero!
All was not rosy in Perdy Hyde-Sinclair's garden. Perdy (Georgia Slowe) was fed up with husband Grayson fawning over Katie Sugden, who was carrying a baby for them, and all too happy to fall into the ready and waiting arms of Matthew King (Matt Healy). An afternoon horse-ride led to a passionate kiss and then more, and after sleeping together Matthew told Perdy he wanted them to have a proper relationship. Perdy was reluctant to make a life-changing decision but suggested she was keen for there to be a repeat performance of their illicit liaison.
Hollyoaks
Darren Osborne's gambling was way out of control and he desperately needed to lay his hands on £25,000. The bank didn't want to know so Darren (Ashley Taylor Dawson) did what any gambler would do and headed off to the casino with Jess Harris (Jennifer Biddall) in tow. For once their luck was in and they had a huge win. And to celebrate, Darren and Jess slept together on the pool table at The Dog with the money scattered all around them…
Okay, Mercedes McQueen (Jennifer Metcalfe) was drunk when she slept with sister Jacqui's boyfriend Tony Hutchinson but that was no excuse. Mercedes was horrified when she found out she was pregnant, and Tony couldn't believe it when she told him she was pregnant with his child! She snatched money from Tony's till and told him that he was paying for an abortion. The last thing either of them needed was Jacqui finding out what had gone on…
Get the What to Watch Newsletter
The latest updates, reviews and unmissable series to watch and more!