Katherine Kelly: 'Corrie fans will think Jane in Strike Back is Becky on acid!'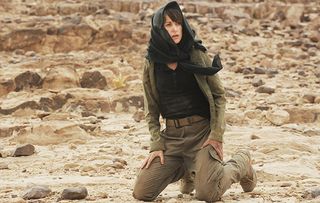 Former Corrie star Katherine Kelly tells Soaplife about her exciting new role in the Sky One action thriller Strike Back, which starts tonight at 9.00pm
The gobby Corrie icon Becky McDonald is still sorely missed by fans. But Katherine Kelly, who played her, has been busy notching up a string of successful roles and now she has a new one in Sky One's Strike Back…
What's the story?
Katherine Kelly has starred in a string of hit TV shows, including Mr Selfridge and Happy Valley, and she even trod the boards at the National Theatre. "I was in six things on TV last year," Katherine told Soaplife. "My nan was going, 'I've had enough of you on the telly!' Then I had six months off to have my second baby, Rose, and my nan's asking, 'Where are you?' You can't win, can you?" Katherine is now back on our screens in the new series of Sky One's 10-part action thriller, Strike Back! And she's playing another fantastic and complex character!
Katherine Kelly reveals all to Soaplife
Soaplife: Tell us about your role in Strike Back...
Katherine Kelly: "I play a character called Jane Lowry. With Strike Back, there have to be high stakes or the Section 20 team wouldn't get involved, so the back story involves a jihadist terror group. Jane was trained by the west and she infiltrated the group, but then she was turned by them. However, viewers will gradually see Jane's mission in the series is personal. What she cares about most is her husband and he dies, so she's basically out for revenge."
S: Revenge? Is Jane a villain?
KK: "Yes, but she never looks like a stereotypical baddie. She's not a macho type at all. She's an enemy that the Section 20 team can't quite figure out. She's a bit of an enigma. There's a sequence in the show where she's absolutely GI Jane and Lara Croft combined, complete with a machine gun in her hand. Then there are scenes when she's pleading for her life. As a baddie, the role ticks all the boxes."
S: How did it come about?
KK: "I had a year off with my first child, Orla, but I could see I'd be ready to get back to work by the time Rose was six months. So I said to my agent, 'I'll definitely be ready! Get me out of the house! I'll be ready!'"
S: Then the Strike Back gig turned up?
KK: "Yes. It came up a week later and I started a week after that. I arrived on location in Jordan in a slight state of shock. They took me to the gun site and the rest of the cast are there, completely tooled up and ready for action. There were seven different guns laid in front of me. They said, 'You're going to have to learn how to shoot all of these!' That was a shock to the system!"
S: Did you have to do physical training as well?
KK: "Yes. When the rest of the cast first got the job and started boot camp, I was in the middle of giving birth to Rose! So they were way ahead of me in terms of physical training. The military adviser and the executive producer also told me I needed to put 'some size on' and 'get shoulders'. So I ended up in a hotel room doing lots of exercises!"
S: How long were you away from home and the kids?
KK: "I didn't want to leave them and neither of them are in school, so I didn't have to worry about it when we filmed in Budapest. One of my dearest friends was there last year filming Jamestown, so I rang her and asked what the city was like for kids. She said, 'There's no better city for children,' so we rented a flat. We did a lot of backwards and forwards with the kids, but my husband, Ryan Clark, and I love travelling anyway."
S: Will your fans be quite shocked to see you playing a character like Jane?
KK: "It will depend on what they've seen me in before. They'll be surprised if they've only seen me playing Lady Mae in Mr Selfridge. But if they've seen a lot of Corrie, they will think Jane is Becky on acid!"
S: What would you like to do next?
KK: "I definitely need to raise the children a bit! I don't want to hand them over completely, so I need to be at home with them for a while. But I feel my stamina is back for something really gritty and real. But, who knows? I may be back in a corset next year!"
S: We hear Strike Back actor and former Neighbours star Daniel MacPherson has a link to your husband…
KK: "Yes. Both Dan and our co-star, Alin Sumarwata, live in a part of Melbourne that's right next to the village that Ryan was born in and where his mother still lives!"
Strike Back, Sky One
Get the latest updates, reviews and unmissable series to watch and more!
Thank you for signing up to Whattowatch. You will receive a verification email shortly.
There was a problem. Please refresh the page and try again.