10 Years Ago in the Soaps: Week beginning November 25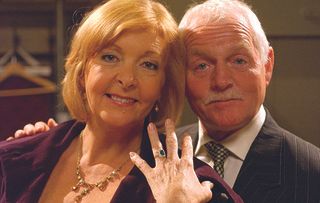 Remind yourself of all the soap drama that was happening in Corrie, Emmerdale, EastEnders and Hollyoaks 10 years ago this week!
Eric Pollard (Chris Chittell) accidentally got engaged to Val in Emmerdale, Maria Sutherland (Samia Ghadie) was not very happily pregnant in Corrie, Billy Mitchell (Perry Fenwick) was trying to get into the Christmas spirit in EastEnders and Mercedes McQueen (Jennifer Metcalfe) was determined to not be pregnant in Hollyoaks
Emmerdale
Awwwwww! Remember when Eric Pollard and Val Lambert (Charlie Hardwick) got engaged…accidentally?! The accident part was all Pollard's doing. As is always the case with him, he was having to prove to his then lady friend Val that he could be romantic. And he decided to do it by proposing to her… But he only did that because he was sure Val would say "no". Only Val found out about his game, pretended to be shocked – and said "yes"! And then she announced their engagement to everyone! Oh, how she laughed. And, oh, how Pollard felt ill…
Marlon Dingle (Mark Charnock) and Paddy Kirk (Dominic Brunt) weren't laughing this week 10 years ago… Marlon was convinced that Paddy's police officer cousin Ross Kirk (Samuel Anderson) was having an affair with his wife, Donna and decided to confront him, with his best mate Paddy as back-up. But even then these two were lovers not fighters and when Marlon squared up to Ross he came off worst… Then Paddy got thumped, too! And Marlon ended up apologising to Ross!
Coronation Street
Maria Sutherland had only been dating Liam Connor (Rob-James Collier) since September but, a couple of months later, she had to tell him she was pregnant! What Maria didn't know, was that Liam had been making eyes at his sister-in-law Carla Connor. So, oblivious, Maria sat Liam down and told him she was having his baby. He didn't run a mile but he also admitted he feel ready for children, which left both of them not knowing what to do…
Jim McDonald (Charles Lawson) was released from prison, so he was, seven years after he was jailed for the manslaughter of Jez Quigley, who had tried to kill Jim's son, Steve (Simon Gregson). He was met on the outside by Steve, who wanted to let him know that his ex, Liz, was marrying again. Steve didn't want his dad finding out on his return to the Rovers. The old Jim would have kicked off straight away, but the reformed Jim stayed calm and promised to leave Liz alone, which stunned Steve.
EastEnders
This time 10 years ago, Honey Mitchell thought her husband, Billy, was cheating on her. It seemed like her worst fears were true, too, when she saw Billy jump in a car with a woman. And they had just had their second child, too, son William – and were struggling financially! Honey followed Billy and discovered he wasn't being silly… He was trying to earn enough money to keep a roof over his family's head and had taken a second job selling Christmas trees dressed as an elf (and not a very happy-looking one)! Boy, was Honey relieved!
Ronnie (Sam Womack) and Roxy Mitchell (Rita Simons) were having the time of their lives hiring staff for Ronnie's new nightclub, R&R. They weren't really expecting their barmen to go topless but, hey, Roxy figured that it wouldn't hurt to, er, see what they were made of! The fun ended for Ronnie on opening night, when Jack Branning turned up. He was supposed to be her silent partner in the business, so what was he doing there? He wanted to mix business with pleasure!
Hollyoaks
This time 10 years ago, Mercedes McQueen was pregnant and had no idea who the baby daddy was. So she had agreed to give her baby to her sister, Jacqui and Jacqui's fella Tony Hutchinson. Jacqui was desperate for a child but couldn't have one. Tony was less enthusiastic about the idea but didn't want to hurt Jacqui. But Jacqui did get hurt in the end… Mercedes changed her mind and decided to have an abortion. Tony and Jacqui tracked Mercedes down at the clinic but they were too late.
Darren Osborne (Ashley Taylor Dawson) was in big trouble with girlfriend Zoe Carpenter (Zoe Lister, who now writes for Hollyoaks!) 10 years ago for not being able to keep his pants zipped around other women.
Actually, they first started rowing about Darren's gambling addiction and he then slept with her best friend, Jessica Harris. Zoe quickly found out about the betrayal and her revenge was swift!
Get the What to Watch Newsletter
The latest updates, reviews and unmissable series to watch and more!