60-second guide to Mrs Brown star Brendan O'Carroll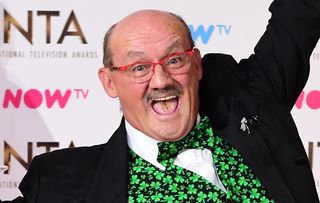 (Image credit: PA Wire/PA Images)
He's a hit as brash gran Agnes Brown in Mrs Brown's Boys and All Round to Mrs Brown's, but how much do you know about Brendan O'Carroll, the man behind the Irish mammy wig?
As foul-mouthed matriarch Mrs Brown, Brendan O'Carroll's comedy Mrs Brown's Boys has proved a colossal hit with viewers, and spawned tours, a film and now, a BBC1 chat show All Round to Mrs Brown's (Saturday, 9.20pm).
The comic creation has made Brendan, 61, a multi-millionaire multi-award winner. But how did the Irish comic start out and what is he like off screen?
EARLY LIFE The youngest of 11 children, Brendan was born in Dublin, Ireland, September 17 1955. His mother, Maureen, was a politician and his father, Gerard, a carpenter. His father died when he was just seven.
SCHOOL OF HARD KNOCKS He attended St Gabriel's National School and left at the age of 12 as his family were so strapped for cash. He began working, doing a variety of jobs including milkman and waiter before trying his hand at stand-up comedy.
MRS BROWN IS BORN! Mrs Brown started life as a radio play called Mrs Browne in 1992, followed by a book called The Mammy. A film, Agnes Browne, based on the book was made in 1999, and starred Anjelica Houston. Brendan then formed a theatre company, Mrs Browne's Boys (the 'e' on the end was later dropped) and dressed up as a woman to play the part when the actress he'd hired didn't turn up!
FAMILY MAN Brendan is married to his co-star Jennifer Gibney, who plays his screen daughter, Cathy. The couple married in 2005. He has three surviving children Danny, Fiona and Eric, by his first wife Doreen. He and Doreen lost their first child, Brendan, when he died from spina bifida at just a few days old.
GOING IT ALONE Brendan writes every episode of Mrs Brown's Boys and All Round to Mrs Brown's himself. He says his ideas come from listening to people and then adding Agnes Brown into the mix. "Sometimes I'll be writing a script and it can come to me all in a day or two," he said. "But I swear there are others that take a month!"
KEEPING IT IN THE FAMILY Many of Brendan's family members have roles in Mrs Brown's Boys. Along with his wife Jennifer, his son Danny plays Buster, daughter Fiona plays Maria and his sister, Eilish, plays Agnes's friend Winnie.
THE 19TH TEA The comedian loves playing golf and lives in Florida where he plays the game every day. He also takes part in charity golfing events all over the world and has played on a team with Brian McFadden and Keith Duffy. He doesn't drink alcohol, but will drink tea all night!
CHRISTMAS CHEER Brendan always spends every Christmas in Ireland, and invites the whole family round for a pyjama party and a big Christmas tea as they settle down to watch the Mrs Brown's Christmas Special.
D'MOVIE STAR! After the success of Mrs Brown's Boys in Ireland and on BBC1 in the UK, Brendan decided to make a film, Mrs Brown's Boys D'Movie, which was filmed in Dublin and released in 2014. Although panned by critics, it did well at the box office, making over £18m profit.
HELPING HAND After finding fame and fortune, Brendan has made sure he helps out those less fortunate, and has donated hundreds of thousands of pound to charity and at Christmas paid for 2,500 Christmas dinners for struggling families in Dublin. He's also planning on building a block of apartments with a clinic for the homeless in Dublin.
KEEPING IT REAL Brendan turned down $100 million (£76 million) to make a US version of Mrs Brown's Boys. "NBC offered me ridiculous money to do the series in the States. It would have been for three seasons of 24 episodes each, but during those seasons I couldn't tour and I would hardly see my grandkids. Jenny and I have a strict rule that we work six months of the year. We don't work when the grandkids are off school."
Get the What to Watch Newsletter
The latest updates, reviews and unmissable series to watch and more!