Box Set Binge: Outlander, American Horror Story and The Secret Agent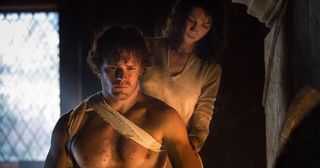 (Image credit: Channel/Everett/REX/Shutterstock)
Stuck for something to watch this weekend? Sit back and enjoy streaming stand-outs Outlander (Amazon Video), American Horror Story (Netflix) and The Secret Agent (BBC iPlayer)
Have a peek at these top shows available on streaming services Amazon Video, Netflix and BBC iPlayer...
Quantum Leap meets Highlander in Amazon Video's fantasy drama series Outlander. Boasting adventure, sumptuous settings, brutal battles and steamy romance, series 1 and 2 of the time-travelling drama are available on the streaming service now...
https://www.youtube.com/watch?v=3Tmu8wUHW-Q
In 1945, former World War Two nurse Claire Randall is visiting Inverness, Scotland, with her husband Frank. Exploring a mysterious and ancient formation of standing stones, Claire faints after touching the highest stone – and when she comes round, she finds she's somehow been transported back to Scotland in 1743. Thrust into the middle of the bloody Jacobite risings, Claire wastes little time in putting her nursing skills to use, tending to the injured Highland warrior Jamie Fraser.
As the series, adapted from the bestselling books by American writer Diana Gabaldon, progresses, Claire is torn between two men and two worlds.
American Horror Story (Netflix)
There are chills, thrills, and blood spills galore in this dark and twisted horror anthology. Turn off the lights, sit back and prepare to be scared by back-to-back episodes from the first four series, available on Netflix now...
https://www.youtube.com/watch?v=xAYwglw8FSQ
Each of the series has its own distinct theme. The first series, 'Murder House', centres on the Harmon family, who move into a restored mansion that turns out to be haunted by deceased former residents. Second series 'Asylum' is set in 1964 and follows the patients and staff of an institution for the criminally insane. The third series, 'Coven', focuses on a group of witches who are brought together at a mysterious all-girls boarding school in New Orleans. Fourth series 'Freak Show' takes place in 1952 and tells the story of a struggling American freak show and its troupe of human curiosities.
The main story changes with each passing series, but many of the actors return to play different characters – there are memorable turns from Jessica Lange, Frances Conroy, Sarah Paulson, Kathy Bates, Angela Bassett, Zachary Quinto, Evan Peters and Lily Rabe.
And if four series is not enough, fear not – there's more to come: a fifth series, 'Hotel', has already aired on Fox and a sixth series is in production!
The Secret Agent (BBC iPlayer)
Time is running out for this Victorian spy drama, which first aired on BBC1 in July. There's now only a limited number of days left to watch all three episodes on BBC iPlayer, so catch it while you can...
https://www.youtube.com/watch?v=jPu5luHLPgY
It's 1886 and Adolf Verlock (Toby Jones) runs a seedy shop in the heart of London's Soho with his loyal wife, Winnie (Vicky McClure). But there's more to this set-up than meets the eye – Verlock is a secret agent, paid by the Russian Embassy to spy on a dangerous anarchist cell. His secret work takes on a deadly dimension when the Russian Embassy instructs him to orchestrate a bombing that can be blamed on the anarchists.
As Verlock attempts to win the trust of the anarchists' bomb-maker, The Professor, and pull off the sinister plot, can he keep his activities hidden from his wife, Winnie, and dogged detective Chief Inspector Heat?
Get the latest updates, reviews and unmissable series to watch and more!
Thank you for signing up to Whattowatch. You will receive a verification email shortly.
There was a problem. Please refresh the page and try again.