The Many Faces Of Julie Walters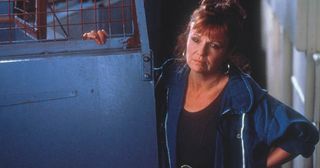 (Image credit: Moviestore/REX/Shutterstock)
National treasure Julie Walters is currently playing the conflicted wife of a celebrity accused of sexual abuse in C4's National Treasure. But let's celebrate her other roles
Julie Walters, currently starring in Channel 4 drama National Treasure alongside Robbie Coltrane, has had a rich and varied multi-award-winning career on TV and in film. Here we take a look back at some of her highlights...
Talent was the television adaptation of Victoria Wood's stage play. She was able to cast Julie, for whom the role was originally intended, but who was unable to star in the stage version. The story centres on two friends, played by Julie, who is taking part in a talent competition, and her friend Maureen (Victoria Wood), who's there to give her support.
Nearly a Happy Ending was Victoria Wood's television follow-up to Talent
Julie co-starred in sketch show Wood and Walters, which only ran for one series, but which was the precursor for the much-loved Victoria Wood As Seen on TV.
Alan Bleasdale's The Boys From the Blackstuff offered Julie her first really serious television role. In it she plays Angie, wife to Michael Angelis's character Chrissie, who is desperately looking for work in a time of high unemployment in early 1980s Britain.
Julie starred in the film adaptation of Willy Russell's Educating Rita, a role that nearly went to Dolly Parton! Thankfully, Julie took the role and was a massive hit. She won Golden Globe and Bafta best actress awards and was nominated for an Oscar.
Directed by Terry Jones, Julie starred as an incarnation of real-life Streatham madame Cynthia Payne.
Acorn Antiques was a soap which appeared within Wood As Seen on TV and had a lot f fun with deliberately wobbly sets and bad acting. Julie has often stated that Mrs Overall is her favourite character of all time.
In archly comic casting, Julie played mother to Victoria Wood's daughter in the popular BBC comedy.
Billy Elliot (2000)
Julie played Mrs Wilkinson, Billy's initial ballet teacher, who encourages him to apply to the Royal Ballet School. For those who have seen the hit film (read no further if you have not) one of the criticisms for many was that Mrs Wilkinson was not in the final scene to see Billy perform in Swan Lake (because Julie wasn't available for filming!)
Based on the true story of the ladies from the Women's Institute who were inspired to create a nude calendar to raise money for a local hospital after the death of Julie's character Annie's husband from cancer. Julie co-starred with Helen Mirren and Celia Imrie.
Julie said of playing the legendary morality campaigner: "I am very excited to be playing Mary Whitehouse, and to be looking at the time when she attacked the BBC and started to make her name."
This blockbuster is one of the top five highest grossing British films at the UK box office. Julie has starred in three of those in the all-time top five, the other two being Harry Potter and the Philosopher's Stone and Harry Potter and the Deathly Hallows Part 2.
Julie played popular Labour politician Mo Mowlam in this TV special alongside Steven Mackintosh's Peter Mandelson (above). Julie shaved her head to portray Mo's hair loss during her treatment for a brain tumour.
Julie has appeared in all the Harry Potter films, playing Ron's mum Molly Weasley, except for one: Harry Potter and the Goblet of Fire, as her character was cut from the lengthy script.
This series of Shakespeare's history plays featured a who's who of British actors. Julie co-starred alongside Maxine Peake and Tom Hiddleston as Mistress Quickly.
In preparation for the role of Mrs Bird for the hit family film Paddington, Julie said: "I asked friends who'd read the books as a child to share their memories. I grilled my husband about Mrs Bird and he said, 'Well, she was very stern, but you knew that she was loving.' I remember thinking, That's a difficult one..."
Julie has eight BAFTAs, more than any other actress, and received the ultimate accolade in 2014.
To play the role of society maven Cynthia, in this drama set at the end of British colonial rule in 1932 India, Julie arrived on set a month earlier than planned in order to get acquainted with her surroundings and her character.
Julie is currently starring as Marie Finchley (above), wife of accused entertainer Paul Finchley (Robbie Coltrane), in Channel 4's National Treasure. The drama, inspired by Operation Yewtree, follows accusations against her husband for historic sexual abuse and the ensuing fall-out for his family.
Julie met playwright Willy Russell while performing at the Everyman Theatre in Liverpool in the mid-1970s. He went on to create the role of Rita in Educating Rita for her.
Get the latest updates, reviews and unmissable series to watch and more!
Thank you for signing up to Whattowatch. You will receive a verification email shortly.
There was a problem. Please refresh the page and try again.