Top 10 Surprising Musical Facts About Idris Elba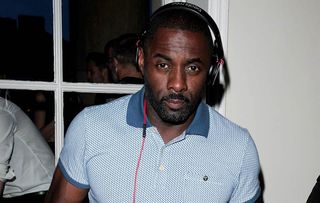 (Image credit: PA Wire/PA Images)
Forget Idris Elba's acting career… here are 10 facts about Idris the musician, producer and DJ!
Most people are familiar with Idris Elba the actor, who co-produces and stars in Sky Atlantic's upcoming new six-part series Guerrilla (Thursday, April 13), a love story set against a backdrop of social and political activism in 1970s London…
http://www.youtube.com/watch?v=aytYyE4tlL4
But for all the success he's enjoyed in TV and cinema for the past 22 years, the celebrated British actor has always had an equal desire to be recognised for his musical talent.
Did you know, for instance, that he co-produced and performed on the intro to American rap superstar Jay-Z's platinum-selling 2007 album American Gangster?
http://www.youtube.com/watch?v=Br09zQX15jk
Here are a few more music-related facts you may not know about Idris Elba…
I is for Inspired by his British TV cop series Luther, Idris (who plays DCI John Luther in the show) wrote the eight-track themed album Murdah Loves John, which was released in 2015…
http://www.youtube.com/watch?v=DXO0q3sQKDc
D is for Driis, the name Idris goes under as a DJ and hip-hop performer. He began by helping his uncle with his wedding DJ business while still at school and then started his own DJ company with friends. At the age of 19, he was DJ'ing in nightclubs using the name Big Driis, and later billed himself as Big Driis the Londoner when he performed as a hip-hop soul musician…
http://www.youtube.com/watch?v=Lfy2Kr-PxYE
R is for Madonna's Rebel Heart world tour, during which Driis opened the show for the American superstar singer in Berlin…
http://www.youtube.com/watch?v=9uvsQa2KDO0
I is for Las Vegas' famous Ice House Lounge, where Driis was invited to DJ at the prestigious NBA (National Basketball Association) All Star Party in 2007.
S is for Shadow Boxer, a Sierra Leonean rapper, with whom Idris featured as a guest on rapper D'banj's hit song Confidential in 2015…
http://www.youtube.com/watch?v=yaHaK9BR5Jg
E is for EP – In February 2010, Idris released his EP High Class Problems Vol.1 to great acclaim in the UK. It was later nominated for a Billboard Music Award in the United States…
http://www.youtube.com/watch?v=ej_0mqK6Ygs
L is for Lover of the Light, a 2012 single by British rock band Mumford & Sons, the music video for which was co-directed by Idris. Oh… and he performed in it, too!
B is for Big Hype, the sixth track (featuring Driis) on the 2011 EP Truant Wave by American musician Patrick Stump, the former lead singer/guitarist of Fall Out Boy.
http://www.youtube.com/watch?v=d8akzcNnS3U
Last but not least, A is for Arsenal! Okay, it's not music-related, but Idris is such a big fan of the North London football club, he'd hate it if we didn't mention it…
http://www.youtube.com/watch?v=Kk7v1O38uYY
Get the What to Watch Newsletter
The latest updates, reviews and unmissable series to watch and more!