BBC drama Bodyguard SMASHES audience record - as fans praise thrilling series opener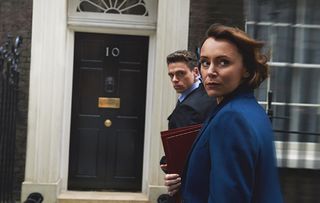 Political thriller Bodyguard has become the most-watched new drama launch of 2018 so far.
The first instalment of the new BBC series scored the highest overnight audience for a drama launch this year by more than one million viewers.
The new six-part series - which stars Keeley Hawes and Richard Madden - debuted on Sunday night at 9pm to an average overnight rating of 6.7 million and an audience share of 35%, the BBC revealed.
The programme peaked with 6.9 million viewers.
The second most-watched new drama launch of the year so far is BBC One's McMafia, which had an average overnight audience of 5.6m when it aired on New Year's Day.
Meanwhile, ITV dramas Innocent and Girlfriends opened with 5.3 million and 5.2 million average viewers respectively.
Bodyguard was also the most-watched broadcast of Sunday night, ahead of the News at 10pm on BBC One, which had an average audience of 5.1 million.
Written by Line Of Duty creator Jed Mercurio, the series sees Hawes play fictional home secretary Julia Montague, while Game Of Thrones star Madden plays David Budd, the bodyguard assigned to protect her - yet there's far more to both leads than meets the eye.
The dramatic first instalment focused on an attempted bombing on a London train, with a pulsating opening setting the tone for the rest of the series.
Viewers quickly flocked to Twitter to praise the opening episode, with one user writing: 'Bloody hell the first 20 mins of #Bodyguard is intense! I sense another brilliant BBC drama.'
Another posted: 'Just watched the first episode of The Bodyguard and I actually held my breathe through the whole first scene! Heart Pounding! Know I'm going to be hooked!'
A third wrote: 'Just seen the first episode of Bodyguard. It's fantastic. The first twenty-two minutes is as tense as they come. Jed Mercurio strikes gold again.'
There was praise for the stars too, with one user tweeting: 'Richard Madden is immense and Keeley Hawes is as excellent as ever.'
Meanwhile, creator Mercurio revealed some insight into the gripping opening scene.
He tweeted: 'The opening sequence of #Bodyguard was originally going to be shot on a train about to depart Waterloo Station.
'Permission was revoked and we had to reconceive the whole sequence to a new location with a completely rewritten chain of events. Thanks to @midnorfolkrly.'
The second episode airs on Monday night at 9pm, and promises more twists and turns as we're drawn into a murky world of conspiracy and counterterrorism.
Get the latest updates, reviews and unmissable series to watch and more!
Thank you for signing up to Whattowatch. You will receive a verification email shortly.
There was a problem. Please refresh the page and try again.