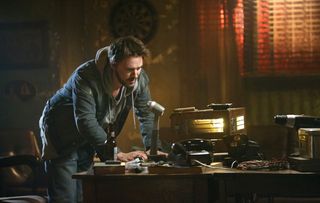 Stuck for something to watch this weekend? Sit back and enjoy streaming stand-out Frequency (Netflix)
NYPD Detective Frank Sullivan died in 1996. Twenty years later, his daughter, Raimy, finds a way to communicate with him. Binge on four episodes of US thriller series Frequency on Netflix now, with new episodes available on the streaming service every Thursday (less than 24 hours after they air on American channel CW)...
https://www.youtube.com/watch?v=BL8Rl2n2C6Y
Raimy (Peyton List) grew up believing her cop dad was killed when he turned bad and got mixed up in the criminal underworld. Aged 28, and now a cop herself, her world is turned upside down when a thunderstorm makes her father's old ham radio, tucked away in the garage, crackle back to life. The radio, unused for years, is a communication tool and soon Raimy is using it to talk to a man who shares her father's name...
Meanwhile, in a flashback to 1996, we see cop Frank Sullivan (Riley Smith) in his garage. His ham radio crackles to life with the voice of a young woman.
As they talk over the radio, Frank and Raimy make a shocking discovery – they're father and daughter, somehow talking to each other from different decades (1996 Frank is talking to his grown-up daughter in 2016). Rattled Raimy uses the radio to warn her father about his death, but in doing so she sets off a butterfly effect that changes the course of history – her father doesn't die in 1996, her mother becomes the victim of a serial killer, and her fiancé has never met her!
Get the latest updates, reviews and unmissable series to watch and more!
Thank you for signing up to Whattowatch. You will receive a verification email shortly.
There was a problem. Please refresh the page and try again.